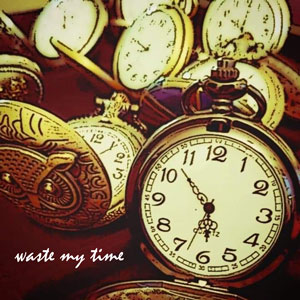 Emerging singer-songwriter Katie Tich started off 2021 with a bang, releasing her first single of the year, "Life in This City," in January. Since then, she has been writing and producing nonstop, releasing three more singles including "Arrow," "Boomerang (Remix)," and "In My Head." Her 2021 releases continue with her upcoming fifth single of the year – "Waste My Time" out June 4th.
An up-tempo but sobering take on the internal conflict that occurs with the loss of a significant relationship, "Waste My Time" takes the listener into Tich's head as she takes a hard look at the delicate balance of processing emotions: on one hand, allowing herself to feel grief that a loved one is no longer in her life, and on the other hand, realizing that ruminating too much keeps her stuck:
I just want to reach you but you never want to try
Maybe you're afraid, maybe so am I
Maybe I am foolish because I just realized
That you just waste my time
This chorus brings to life the inner monologue of uncertainty that accompanies a broken relationship; all the 'maybes' and 'what-ifs.' The resolution brings home the powerful point—only by letting go of these uncertainties is it possible to accept a loss, process grief, and move forward.
Presave "Waste My Time" here: https://ffm.to/waste_my_time.opr Follow and stream Katie Tich on SPOTIFY: https://open.spotify.com/artist/0FVai2xz6tjhZehnaIWPGN?si=IWRg-wyKRe-G97wwCLpUaQ and SOUNDCLOUD:https://soundcloud.com/katietich. Connect with Katie Tich on INSTAGRAM: @katietichmusic https://www.instagram.com/katietichmusic
Please follow and like us: