Born in Chicago's Southside Darus Clark was introduced to hip-hop at a very young age, through listening to Dr. Dre and Snoop Dogg's, "Nuthin' But a 'G' Thang," at age four. At age six, Clark's mother moved him and his siblings to Michigan for a job opportunity, and essentially, a safer place to call home. Clark began writing his own lyrics in grade six as a way to release his emotions. But it wasn't until his senior year of high school, after having an inspiring talk with a teacher that he moved to the next level of recording.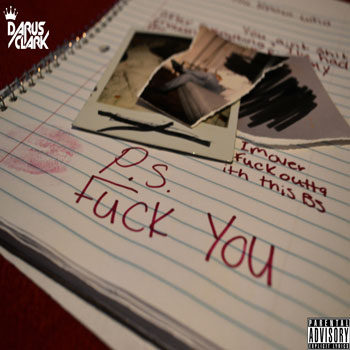 Clark released his first EP, "It's Not a Dream," in April of 2013, followed by his first mixtape, "Late Night Thoughts," in September of 2015. Clark dropped his first album, "P.S: F**k You," on November 24, 2016. Seriously, one of the first things that struck me upon listening to this album, from the instrumentals to the lyrics, is the pure reverence for life and love it exhibits. The album infuses a modern style with an old school vibe and Darus Clark's classic view on the beauty and pain of the daily human struggles, and the result is a masterpiece.
I know an album is good when I can't stop playing the opening track, in this case "Spotlight ( Prod. By Oysm Beats)" which itself stands as one of the best songs on the album. This is a case where I can't pick favorites, or I would pretty much be listing the entire album. I will say, however, that "Humble ( Prod. By Tone Jonez)" has a personal place in my heart, with its powerful spiritual message.
Each song is tightly composed and not a second to long. The beats are equally lush and spacious, allowing Clark's voice to shine clearly without obstruction. The synergy works perfectly on "Let it Go Feat Micah Chambers ( Prod. By Chill)", an inspirational "get you thinking" track.
The introspection on "Higher Than Life ( Prod. By Dopeboi)" and "I'm Good ( Prod. By Dreamlife)" will keep you awake. Darus Clark makes a thousand valid points, and the songs are filled with enough double-entendres, wordplay, and strong messages that you'll be replaying this for quite some time.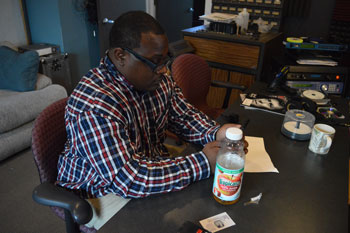 So far in the review I have not mentioned the word "soulful" or "soul", but without a doubt the next song takes the cake on that. If I could pick one song on the album that's chock full of soul and passion, it has to be "Intervention ( Prod. By Dopeboi)", which is one of the most human songs you'll be hearing.
The ethereal production is only one of many melancholy factors that attribute to the overall heartwarming feeling that the song strikes you with, and Darus Clark's intellectual, thoughtful, and poetic rhymes is enough to bring anybody back.
The nice little blend of sampling, gritty drums, and strange mix of weird noises and effects on "SpaceShip ( Prod. By Chill)" plays off as an experimental backdrop to Clark's vibrant rhymes conjuring up otherworldly images. "Music To My Ears ( Prod. By Chill)" is a classic in my eyes switching to more of a jazzy undertone and a piano driven soundscape.
The song seeks creative territory and is adorned with skilled lyricism and honesty. "P.S: F**k You," is a splendid album, but I don't think I need to tell you that. I'm almost 100% sure you'll discover that by yourself.
OFFICIAL LINKS: SOUNDCLOUD – DATPIFF – AUDIOMACK – TWITTER – INSTAGRAM – FACEBOOK
Please follow and like us: