Artists who are trying to break into the industry know how hard it is to make a name for themselves. With the many emerging artists trying to make it, it's a struggle to stand out from the sea of hopefuls. For many people, Bagzamilleon's songs work like a shining light that attracts fans to its brilliance. Dominic Nicholson, who goes by the stage name Bagzamilleon, was born in Rochester, New York, where he lived with two brothers and two sisters. Though Bagzamilleon is quickly becoming one of the best upcoming trap musicians, his life wasn't all sunshine and roses. He had to deal with a rough past, which includes an absentee father, expulsion from school, being homeless for ten years, and surviving a gunshot. He had to face tough challenges and harsh conditions due to street life. But through it all, it was his love for music that saved him. He refuses to let the past define him, and now he is thriving as an up-and-coming hip hop and trap artist.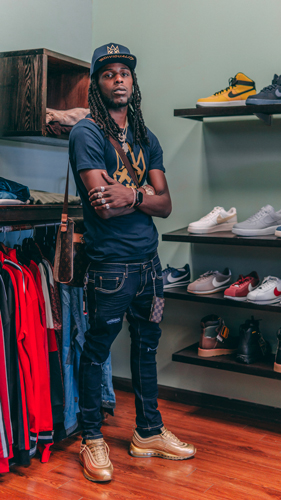 He often talks about his life experiences in the music that he writes. When he was 13 years old, he wrote his first-ever lyrics titled "Why Pops." The song was about his absentee father, and in it, he laments the fact that his father was never there when he needed him. When he was 23, he made a mixtape called "Ethel Street." The mixtape contained lyrics about his life on the streets.
His music inspirations come from artists like Jay Z, 2Pac, and Biggie. He has their music to thank for getting him through rough times. But for his successful involvement in the music industry, he credits one man: renowned record executive and co-founder of Roc-A-Fella Records, Damon Dash. Bagzamilleon was introduced to Dame Dash through his friend Big Boostie. And before long, Dame and Bagzamilleon became close friends. This friendship gave Bagzamilleon a chance to connect with Dame's team and other members of his inner circle.
Dame Dash introduced Bagzamilleon into the industry as a social media consultant, but Bagzamilleon's music was too good to be ignored. So Dame gave him a chance in 2016 to work on a mixtape. There, he had the chance to work with people like Money League Boys, Big Bootsie, Dame Dash, and amazingly, Kanye West.
Since then, Bagzamilleon has gained a large following who can't wait to support any and all music or projects he comes out with. And he has been busy with these projects. He just got sponsored by Popl.co to promote them, and he also made a tribute song to Nipsey Hussle called "Hussle for Nipsey," and another one for Kobe Bryant called "Take a Shot for Kobe." He also recently joined the label Five Star Empire to show the world what he's got up his sleeve, aside from the projects he's been busy with.
Recently, his new single "Luigi" reached 250,000 streams on Spotify in less than three months, which is a testament to how dedicated his fans are to streaming what he puts out.
Connect with Bagzamilleon through his Website, Facebook and Twitter. All his songs are on Spotify
Please follow and like us: