Jay Cool, born into a family with Latino and Caribbean roots, has been bringing his "high energy" entertainment to the public for over ten years. From the extravagant big-name casino hotels in Las Vegas, the exclusive clubs of Miami, Ft Lauderdale, Boca Raton, Palm Beach, to even foreign countries like the exotic show styles of Santo Domingo and the Bahamas, Jay Cool has made fans of his audience because of his exciting performances that get the crowd dancing and captivated.
Jay Cool can provide a diverse range of entertainment shows featuring a wide-variety of musical styles from which to choose including the pop music of today. He creates and offers a unique blend of American popular music and hot Latin sounds all on one stage.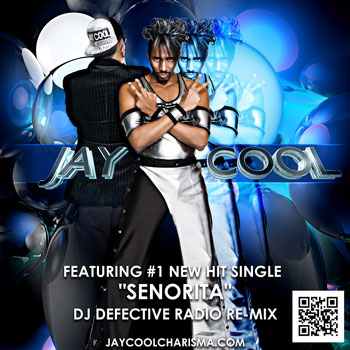 Apart from the fact that Jay Cool had taken a few years off to focus on his 1st original album "My Rhythm of Carnival" (Mi Ritmo Del Carnaval) which he wrote, composed and produced himself, with versions in both English and Spanish, his long-awaited smash singles "Senorita'' & "La Chica Que Quema" has rapidly been climbing the charts and getting rave reviews in huge markets such as New York City, San Francisco, Australia, Mexico, Los Angeles and many more.
With this new highly anticipated song, Jay Cool is ready to take his audience to a new level! All in all, Jay Cool's performances can incorporate a wide variety of entertainment experiences and fun interactions with the audience. They will even get so caught up in the excitement that they will lose their inhibitions and dance and sing with him on the dance floor.
An all-around highly versatile entertainer, Jay Cool's experience includes acting, film, dancing, as well as singing. He has been featured on HBO's "Plato's Run" with Roy Scheider, Gary Busey and Steven Bauer as well as being in Frank Farion's (Milli Vanilli) "Thousand One Nights" (International Music Video).
He has also performed at memorable events for the former Governor of Florida, Charlie Christ. Included in his achievements are a performance on Channel 7's Winterfest Boat Parade, dancing at and choreographing Taylor Dayne's (80s Pop icon) Public concert appearances and doing "Reality Comedy with Victoria Jackson (of SNL)"
What people are saying about "La Chica Que Quema" and "Senorita":

"A nice piece of work. Radio and mix show will enjoy it. It's a hit!" — Gary Cannavo – Mass Pool (Revere, Ma)

"Fantastic Track! Excelente!" — DJ Luis – Neigbors (Seattle, Washington)

"La Chica Que Quema is a great song and it's gonna be #1!" Jorge Camacho – Ritmo Camacho Record Pool (Washington DC)

"This is a great infectious and energetic reggaeton track. The video is fantastic and it has help everyone to put the voice and the face together. Our DJs are fully supporting this track. DJ Frankie, DJ Gonzo, DJ Pollo, Walter Velasquez, Jose Diaz, DJ Alpha, Salsa Eddy, DJ Martin, DJ Alex C and many more. There are also a lot of DJ in Australia, Mexico, Europa, Dubai, etc. playing it" — Alex Carmenates – Salsamania Latin Record Pool (Houston, Texas)
Management/Booking Jay Cool Charisma Entertainment –  jaycooltm@gmail.com
OFFICIAL LINKS: WEBSITE –  FACEBOOK – SOUNDCLOUD – REVERBNATION – INSTAGRAM – YOUTUBE – CDBABY – VEVO – LINKEDIN
Please follow and like us: