YADIN, is a Hip-Hop / Pop Artist from New Zealand. He plays the guitar and the piano, and most interestingly of all, he writes, records and masters his songs in his car. Listening to his single "We're The Untamed" produced by Havoc, its evident YADIN either owns the Batmobile, or 007's Aston Martin as its all-encompassing cinematic brilliance comes shining through. Technically, all the recording embellishments are perfectly built-in to captivate the listener, while emotionally, YADIN's vocal delivery, soothes, intrigues and inspires. What more do you need from a pop single? That it bangs? Well it does that too!
"My dream has always been to find a way for me to express my thoughts, feelings, and emotions through a form of art that I can connect with an audience on a deep level with," explains YADIN. Something he fully achieves with "We're The Untamed".
So often pop music is dismissed as the art equivalent of non-reusable disposable junk, but the reality is that this is not always the case. Pop music as a genre might be getting more personal, with relatable themes weaved through an almost modern symphonic template.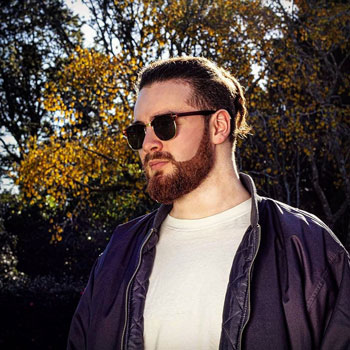 Such is the case with "We're The Untamed", which has rich musical canvas, and electrifying atmosphere and an ear-warming melody. YADIN's vocal range is navigated with effortless ease, as he slides back and forth between his normal and falsetto voice.
The track is filled with incredible vocal hooks, making it completely irresistible to the ear. It is an absolute radio-ready offering.  The song provides YADIN with the chance to show off every facet of his outstanding voice, switching from his falsetto to swaggering cool, to breathlessly emotive.
There is no doubt that YADIN has put his heart and soul into this record and this leads to a definite growth and maturity in his sound, both lyrically and melodically. The instrumentation throughout is particularly striking, in addition to YADIN's vocals which really get the chance to break loose. "We're The Untamed" gives us a glimpse into YADIN's world and his incomparable passion for music.
"We're The Untamed" is first and foremost, a thoroughly enjoyable listening experience. YADIN's evidently has a knack for making catchy tracks that emote and this song is stacked to burst with it. An extremely talented individual, YADIN lends an air of authenticity to the song, which is sometimes sorely missing from the vacuous and overtly coy releases from his contemporaries and peers.
Take a quick run through his catalog of songs, and it becomes clear that YADIN is a great singer, songwriter, and rapper. However, with "We're The Untamed", he has managed to push his creative boundaries, taking his sensational talent to absolute new heights.
YADIN effortlessly showcases his smooth-as-butter vocals, within a soundscape that is as lush and fleshed out as it can be. Whether you're into Pop, EDM or R&B music, "We're The Untamed" is one of those songs you tell everyone to check out!
OFFICIAL LINKS: SPOTIFY – INSTAGRAM – TIK TOK
Please follow and like us: