At the fulcrum of an evolving hip-hop scene, from Chicago, IL, comes Tony Ross, a multi-talented vocalist and rapper who dons the moniker of Tone Ross. Making music that is driven by a desire to motivate, inspire, and tell his story his way, Tone Ross' overarching ambition is to empower people through his gift, to share emotion through music, and to impact lives positively. The artist has definitely been up to something with his 11 track project, "Pressure". His raspy, warm, and emotional tone make it easier to follow the emotion and nuances he shows us in this album, by peppering it with glimpses of his life experiences  and mindset. There's a natural flow that leads Tone Ross to explore a lot of realism and honesty.
Certainly "Pressure" is an exposition of an artist exploring his range by paying tribute to the current melodic hip-hop era that's becoming more populous, and honoring the hard-hitting lyrical rap of a time gone by, all the while honing his craft and celebrating his messages. The reason why I think "Pressure" is able to be such a noteworthy album, is mainly because it's an honest, banging and soulful project that originates from pure skill and the will to communicate.
In the opening track, "My Niggas (Intro)", Tone Ross is flowing and singing about the environment he grew up and the consequences thereof. Tone Ross is not just one of those ordinary singing-rappers, but one of those artists that let each drop of emotion resonate in each note, and therefore needs to be taken seriously. As an artist that's stylistically hard to pin down, he morphs into whatever beat setting he's on. On "Float", he slows it down: "I drip like a fountain. I drip on your bitch. I just want to float. I float like a boat," sings Tone Ross.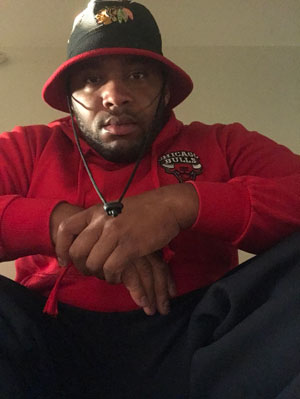 "Pressure" is Tone Ross' time to show us who he is and it stands as a testament to where he's has come from and where he plans to go. He comes bursting forth on the head-banging "Showtime" ft. Trillz Nation, and then turns it another notch up on the atmospheric "No Cap". Tone Ross has a knack for giving us the details of his life while consistently sounding present and involved. He also approaches topics such as sex and struggles in a way that's consistently captivating.
Even if Tone Ross manages to plough through a massive variety of sounds on "Pressure", every song's topic is matched brilliantly with the music, and an appropriate vocal delivery. Listen to his aggressive and dynamic flow on "Movie", before he shares with mic with Darko Cannon on the kinetic thriller, "Outside". With each sound he approaches, he applies the care and craft of someone who is totally in charge of his craft. This is essential when the instrumentals jump around.
When he raps, Tone Ross does it with the complexity and cadence that is needed from someone who jumps from singing to rapping in the manner he does, with his bars never sounding boxed in. On "Heath" he is in stealth mode with a minimal piano-driven beat.
He then switches the template with a cinematic production and a bombastic delivery on "RockBoy Lit". Regardless of which direction he goes in Tone Ross manages to tie the mishmash of stylings all together into a tight package with his diversity shining throughout.
On "Pilot" and "Phone" Tone Ross brings in the airy and soulful voice of Te'a Songbird to contrast his gritty and abrasive deliveries. This results in two mesmerizing tracks, before Tone Ross goes on to close the album with "The Message (Outro)".
The tracks on this album couldn't be more stylistically different between them, yet when placed near each other on the same tracklist they sound inseparable. Tone Ross' loud and proud charisma, and the rich variety in the production, make this album an incredible listening experience.
OFFICIAL LINKS: SPOTIFY – APPLE MUSIC – SOUNDCLOUD
Please follow and like us: