Psychedelic, Jazz, Bossa Nova, Alt. Pop band, The Other Day, from Birmingham, Alabama USA, made up of Jennifer Skates: Lead Vocals, Flute, Trumpet, Songwriting, Lyrics | Catt Shiflett: Lyrics | Bobby Shiflett: Guitars, Background Vocals, Songwriting, Lyrics | Andrew Reid: Bass | Kenneth Shiflett: Drums, Percussion | Derek Nolin: Keyboards and Special Guest: Jeff Waites: Percussion, has finally released its debut album entitled "Night Flowers".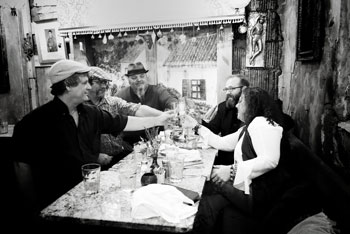 Bobby Shiflett started looking to put together a new project in 2014, and together with his wife Catt and Jennifer Skates, they began collaborating on writing new material. By mid-2015 they had assembled most pieces of the project's musical puzzle and went into Avondale Sound Studios in Birmingham to record "Night Flowers." The album is set for a 15th of January release and we got to sample a preview of the recording.
Don't let the smooth sound of this Bossa Nova and Jazz induced album fool you. There's so much going on here. Listen to how the drummer accents, punctuates, and sparks the band with just the right rhythms and fills. The keyboards color the sound, while adding harmonic texture on several levels. It also adds an, oh so understated emphasis to the rhythm. The bass player is the anchor in this group, yet he can improvise his bass runs in such a way that he leads you into the changes effortlessly. He's obviously done his homework.
The guitar player, on the other hand, is probably a virtuoso, yet he doesn't remind you of it all the time. He knows when to play rhythm, knows when to comp, and he stays clean and understated, allowing the vocalist to paint the sonic canvas with varying melodic textures of emotional substance. These are musicians that serve the music, not the ego, making this a true gem.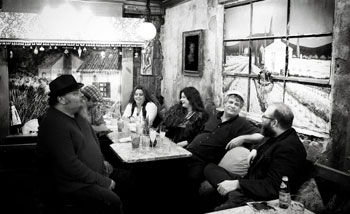 The production quality on "Night Flowers" is superb, the bass is nice and low and on even a mediocre system it feels the room beautifully. This is very good cuddle music, in front of a fire, under a blanket with that special someone. At least that was my personal experience, but you could so easily be doing some romantic Bossa Nova steps across any dance floor with these organically mellow, but uplifting rhythms.
The opening song, "Sway" is perhaps the most beautiful song on the entire album. The blend of seductive acoustic guitar, burningly emotive vocals and the distinctive, syncopated drum rhythm, is awesomely well matched. The pictures that it brings to my mind tell a story that every feeling soul can relate to. It's mesmerizing.
Other outstanding tracks would include "Mi Flor de la Noche" with its trumpet interludes and layered arrangement. The swinging temperament of, "We're in the Mood (for Love)", as well as the powerful and spirited vocals of "Body Surfer – Another Cha Cha Cha". If you want something smooth and upscale, this is what you're looking for. The Other Day creates classy music for those who want the best, regardless of genre.
OFFICIAL LINKS: WEBSITE – CDBABY – FACEBOOK – TWITTER – SOUNDCLOUD – REVERBNATION
Please follow and like us: