Lead vocalist and singer-songwriter, Lee Cerda, formed the Houston based rock band, A Weeknights Coalition in the summer of 2015 when he connected with drummer Filippo Spezzapria and lead-guitarist Khaled El Assir. Hailing from Italy and Spain, the two found their place within the band, sharing the same passion and energy to create and play music. Rounding out the band and adding to that energy would be native Houstonian and bassist John Palladina. Together, A Weeknights Coalition hopes to put out good sounds, good vibes and a rockin' good time.
Dear people, the single, "Bayou Man", by A Weeknights Coalition is truly an excellent track. Unless you are deaf and have a problem with the essential fabric of rock n' roll, you will be touched by this music. Lee Cerda paves the way with this track, his words are emotional, compelling, dark and powerful, and his strong delivery on this song is hard to match.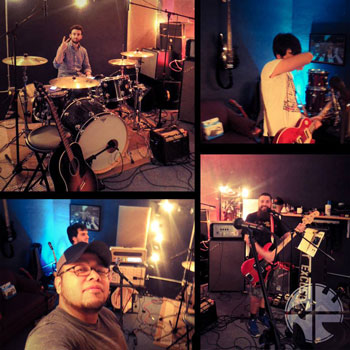 The distinctive, grungy and sometimes quirky guitar playing complements Cerda's singing very well and sets up an unwavering groove throughout the track that can easily put you in a trance. The slow guitar groove works in tandem to Cerda's calm verse vocals before spurring into a blistering vocal attack on the chorus; couple that with a great rhythm section and the results can be no less than phenomenal.
A Weeknights Coalition is a treat for any listener who enjoys the juxtaposition of grinding, passionate wails and deep, somber baritone expression, as well as the combination of driving rock rhythms and contemplative soul-explorations. Many of today's crop of corporate-constructed, mass-produced rock-dreck don't even possess the presence of mind to know that they should pray to whatever Deity they hold dear so they might get lucky and create something with a thousandth of the power of this incredible track. And I say that without the slightest shred of pretense or hype.
Emotive, moving and powerful "Bayou Man" is at the epicenter of today's transformative new rock movement. Not only will the song appeal to rock scholars across the planet, who appreciate the complexity of the guitars and the emotional depth of the lyrical content and vocals, but the common fan can enjoy the sheer rocktitude of it. A Weeknights Coalition gives you a raunchy musical experience that few other independent rock bands are able to give you. It's impossible to overlook their talent and authenticity.
OFFICIAL LINKS: WEBSITE – FACEBOOK – TWITTER – INSTAGRAM – REVERBNATION – BANDCAMP – SPOTIFY
Please follow and like us: