THE ORIGINAL MEMBERS OF MIGGS COME TOGETHER TO RELEASE A NEW SONG AND VIDEO FOR "HARDER THAN IT HAS TO BE" OUT ON MAY 7
After 15-years the original members of MiGGs have joined forces to release their first song together since their critically acclaimed Insomnia album. "Harder Than It Has To Be," will be available on all streaming platforms on May 7. Pre-save it here: http://smarturl.it/4vyv4e
The San Francisco born band has been apart longer than they were together, but they prove they still know how to craft tight, melodic rock n' roll with "Harder Than It Has To Be".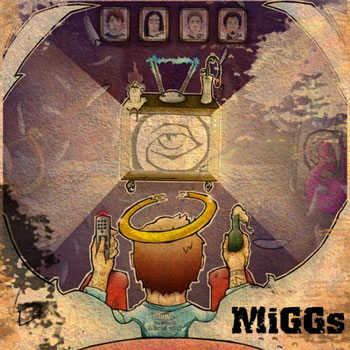 The reunion was really a happy accident. In 2020 when Don was in the studio writing and recording a song for Candlebox with singer Kevin Martin ("In Your Hands" out June 2021.) They needed a drummer for the project, so Don called his MiGGs bandmate Jason Gianni. "It went well so the idea of us making more music together seemed possible" explains Gianni. "When Covid brought everything to a standstill, it was a perfect time. Ironically, our writing process wasn't altered with Don initially creating the framework of "Harder Than It Has To Be" and the rest of us contributing to finish it."
"The minute I had the riff, I imagined the guys playing it. So, I asked, and everyone was in," explains Don. Carta chimes in, "We had some great memories together, so it was a no-brainer. This tune definitely captures some of the magic the four of us had back then."
Although they weren't playing together the four have kept busy over the years, Don Miggs (Vocals) released several more albums under his surname before moving on to his new project, Whole Damn Mess. Jason Gianni (Drums) toured the Broadway show "Rock Of Ages" while teaching at the prestigious Drummers Collective in NYC. John Carta (Lead Guitar) penned the theme song to "The Bachelor" and continued to write for film and TV and Mark Baker (Bass Guitar) stayed active with the powerhouse West Coast band Uniform Standard.
Stay up to date at:
http://www.miggsmusic.com/
https://www.facebook.com/miggsmusic/
https://twitter.com/miggsmusic
https://www.instagram.com/miggsmusic/
Please follow and like us: