Dream Trippers have blasted onto the music scene with their debut single, "The Original Atom". The new band, formed by Brian Cotrill and Bob Workman, is a departure from their previous projects with a sound that's out of this world. Bob Workman, the drummer, explains, "Our first single is so different from any of the bands either of us had ever done. Brian is talking existentially in the verses and then the chorus sounds like The Byrds. We were really aiming for the fences this time."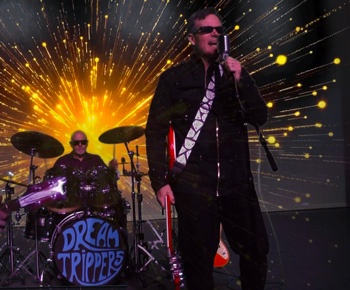 "The Original Atom" is a cosmic exploration of self-discovery. The songwriter/guitarist, Brian Cottrill, delves into the depths of the human experience with lyrics like, "I am mortal, normal, dying, a big mess, part Nagasaki bombing dust and Cleopatra's dress… I am a piece of the original atom, through space and time it's so hard to fathom."
The song structure is also a departure from the norm, as Cottrill explains, "This is one of the very few songs that I wrote as a poem first, and I don't do that. I write rock songs. Even the song structure was weird for us." Overall, "The Original Atom" is a thought-provoking and genre-bending track that leaves a lasting impression.
"The Original Atom" is a pure representation of two musicians writing songs for the fun of it and coming up with a blend of indie, alternative and psychedelic rock that sounds like an instant classic. This dynamic duo packs a punch with their motorized beat and driving rhythm. The basslines roll, while the guitars shoot off at electrifying angles, perfectly complementing the clever musical phrasing.
The vocals on "The Original Atom" fluctuate between an animated spoken-word twist to a catchy mellifluous croon perfectly capturing the aloof yet impassioned energy of the band.  The single is a masterful exploration of both the classic and the new, introducing Dream Trippers as true futuristic retro-innovators, if such a term could exist. With a deft forward-thinking touch and a keen ear for timeless melodies, they have crafted a track that transcends the fleeting trends of today.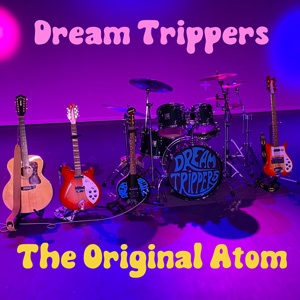 Dream Trippers are not just riding a wave with their music, they're busy creating a new one. "The Original Atom" is a shining gem that perfectly captures the raw talent and magnetic charisma of the Dream Trippers.
The duo has managed to add just the right amount of polish to their sound without sacrificing any of their unassuming indie charm. Dream Trippers may not present themselves like a typical big-time band, but with a track as absorbing as this, they're destined to make a significant impact.
"The Original Atom" is an impressive, tantalizing exploration of their core talents that leaves just enough room for them to grow even further. Dream Trippers are a band to watch out for in the coming year.
CREDITS: Bob Workman – drums, percussion, and vocals. Brian Cottrill – vocals, electric sitar, guitars, bass, keyboards. Arranged and produced by Brian Cottrill and Bob Workman. Written, recorded, and mixed by Brian Cottrill. Album sequenced by Bob Workman. Lyrics are available on the lyrics tab on BrianCottrill.com. Background: Brian Cottrill and Bob Workman also play in The Grey Agents together and live near Bridgeport, West Virginia, USA. Shows: Dream Trippers CD Release Party on March 4, 2023 at 6pm at Music On Main in Bridgeport, WV, USA
OFFICIAL LINKS:
Social Media Links
http://dreamtrippers.net
https://www.facebook.com/briancott
https://www.instagram.com/britune/
https://youtu.be/SDLKFB3f3d4
https://open.spotify.com/artist/63hYDetlq7NitnymeN14Sc
https://music.apple.com/us/artist/dream-trippers/1661760278
https://briancottrill.bandcamp.com/
Please follow and like us: