Tatono's travel-inspired music is created while he explores the world, and which he incorporates into his own filming for breathtaking self-composed videos. Tatono's music has been featured across many travel shows and on highly acclaimed YouTube channels. The Bend, Oregon-based artist began musical his journey at the young age of 17, when he played drums in high school garage bands. The artist, who has been inspired by the likes of Moby and Thievery Corporation has just released his 2020 album "Far", which he says sums up his year of 2019. Some songs on the album were made for collaboration projects for sailing charter companies, and smartly summarizes all of the creative's luscious exotic soundscapes.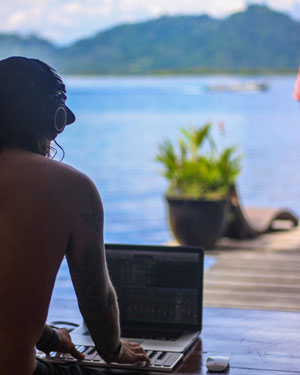 The dreamy new release, "Far", is a lush, wistful, and stimulating ride. Oregon's electronic groove connoisseur arrives with a sweet serenade of 10 tunes on this album. Nature has always been a big influence of Tatono's, and this is no exception.
While he still offers his distinct vibe of break-beats and world music grooves, the ambrosial layers of bright soundscapes is what sets "Far" apart from its contemporaries. In his whimsical whirlpool of samples and sounds, Tatono uses plenty of airy wind instruments, shimmering keys, and resonant basslines, to accompany his rhythmic percussion.
The opening track, "Call Your Drop" is a lovely, floating piece. The song slowly builds on an echoey mid-range keyboard and rolling drumbeat. Eventually, a specific rhythmic algorithm begins to take shape and find the foreground.
"Near" uses an amplitude of plucked elements that blend and groove together. A marching drumbeat finds itself in the distance behind hi-hats, cymbals, and a persistently growing rhythm. "Swells" provides an ambient melody. Tatono builds most of the song structure resonating tribal-like drums; thus the listener begins to see why the theme of the album is so deeply rooted in travel, distance, movement, and shapeshifting.
The three minute long "Always Gone" begins as a delicate, mellow tune. It builds with heavy keys and slowly transforms into a much more powerful trance vibe. The bright meshes with dark, clarity becomes a fuzzy haze, and juxtaposition is found at its finest. "Nature" throws some whirling sprinkles of keys on top, as Tatono sums it all up with a heartfelt arrangement driven by thundering bass and drum loops.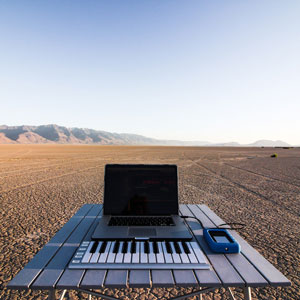 In the album's title track "Far", the composer uses his flute instruments to their best. In this subtly jungle-driven track, the arrangement is covered in atmospheric textures more than anything else. Various instruments enter and exit, constantly driving the track's head bobbing momentum.
Tatono has the sound and style of one who is at the forefront of travel-induced electronic music; stylistically combining a freeform of influences. He is an aficionado of soundscape storytelling, creating a sonic atmosphere that engulfs the listener. "Creating Momentum" shows a knack for minting warm, fuzzy, feel-mighty-fine grooves that shimmer and shine when matched with the right sounds.
"Glaciers" shape melancholic and wistful moods using a deep soundboard and vocal sources. Apart from the underlying themes of travel and the emotional punch, the real thrills come from how Tatono carefully expands and amplifies his elegant sonic palette on songs like "Sea Canoe" and "Mediterranean".
Tatono makes a theme of shifting between heavier tracks and more contemplative ones throughout the record. And he is largely successful in binding the two and avoiding a discordant narrative. It all makes for an attention-grabbing record. As with much of Tatono's work, "Far" is the result of a myriad of sounds, textures and techniques most of which were strung together expertly and imaginatively on the artist's travels.
OFFICIAL LINKS: WEBSITE – INSTAGRAM – FACEBOOK – TWITTER – YOUTUBE
Please follow and like us: