Buzzing Rapper from Brooklyn NYC, Swaggonahunna has dropped 2 EP's "Click That Link" as well as the hot collection, "Gucci Goggles". Swaggonahunna has been rapping seriously for just on 5 years and is building his brand. The mixtape "Gucci Goggles" has already made the Billboard Favorite Ep of the Week spot.
Swaggonahunna, is an artist who is determined to make an impact the music industry by bringing his fiery energy, his unique style and versatile flow, which includes addictive melodic rap harmonies. His tracks feature colorful, bass booming beats, underscored by a bunch of dynamic rap flows. He operates on a level of quality and consistency.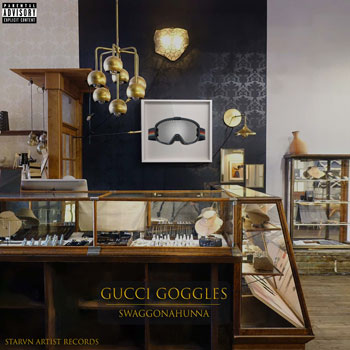 Not only does Swaggonahunna hit us with melodies that are infectious as they are mesmerizing, but he also sounds like his on fire vocally. The way he goes from melodic motifs to hard-hitting rhymes throughout the songs make for an intriguing listen. Swaggonahunna raps with a sense of movement and urgency.
Swaggonahunna does a great job of gifting us with club bangers, melodic bangers, and street bangers that are full of unadulterated straight talk, and insane vocal deliveries. He showcases some pretty impressive flows, and blesses us with memorable tunes while forging tons of confidence throughout the project.
Musically and lyrically, "Gucci Goggles" delivers all the winning tricks, magic and acrobatics found on today's trendiest releases. The notion of authenticity can be a false idol in Hip Hop, but Swaggonahunna realness is not to be questioned. Moreover, Swaggonahunna has the charisma of a rap star. He has the voice, confidence, and style to stand proudly amongst his contemporaries and peers.
Connect with Swaggonahunna:
MUSIC STREAMS – SPOTIFY – YOUTUBE – BILLBOARD – INTERVIEW
Please follow and like us: