"Parasite" is an epic symphonic rock song, written, performed, recorded and produced across 3 countries. The artistic collaboration was formed between Suraaj Parab (India), who produced, composed, and arranged the music; Sandeep Kulkarni (U.S.A), who wrote the lyrics and sung the song; Amit Mhatre (India) who features on drums, and finally, Oliver Wagner (Taiwan), who mixed and mastered the song. Initially Sandeep hand written the lyrics about corrupt politicians around the world, sometime back. But the song didn't quite fit into what he was doing at the time, so he shelved it, until finally revealing it to Suraaj, who instantly fell in love with the song a decided to develop it into his first original vocal song. Sandeeps's lyrics and vocals, matched with Suraaj's arranging and playing skills, reveal this epic as a song that perfectly shows the potential of this project. Rare are the musicians who can convey to the listener the passion they feel about what they have created.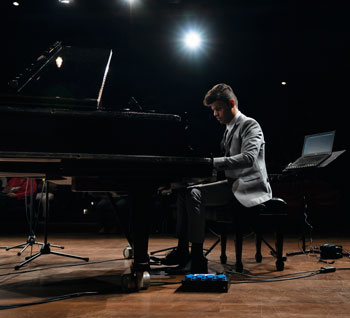 I absolutely love the very essence of this project – at its core it is so beautiful, and so true to the most admirable human ideals. I cannot possibly describe how much creativity and passion was required to create the transcendent atmosphere of "Parasite". It is the soundtrack to artists' vision of a corrupt political world, and every word and sound the listener hears represents a part of the story they had in mind.
The lusciously layered instrumentation, vocals, and overall texture perfectly capture a powerful uplifting feeling, and the rather dynamic flow of all the music fits exactly to what the story should convey. And it becomes clearer the more you hear it.
This is a stunning track – the production and engineering is extremely tight, the melodic lines mesh between the instruments and percussion in such a way that it all sounds like an incredible single multi-timbral instrument, expanding and evolving into a giant wash of emotional sound.
Above it all the incredible Sandeep Kulkarni sounds like he could front Metallica with ease. His voice is both deeply ardent and stirringly resonant right from the get go, as he opens with the lines: "You are walking away with all my dreams. You are talking away things you don't mean." Reaching a cutting apex as he warns "No more talking keep on marchin'. Gotta live stand up and fight."
Amit Mhatre on drums, is not just a simple timekeeper, but he adds dynamics and nuance to the arrangement riding and pushing its peaks and valleys, making sure the shifting momentum maintains positive thrust throughout.
Suraaj Parab has immense talents both as a composer and performer. His broader expertise, far-reaching musical taste and penchant for writing music that, even when made with greater accessibility in mind, possesses the kind of sophistication and depth that makes his idea of a rock record into something far more substantive. His classically informed pianism inundates the track with impressive stylistic shifts, anchored by the vigorously persuasive orchestral strings.
Together Suraaj Parab & Sandeep Kulkarni ft. Amit Mhatre, do honor to a currently underappreciated and sophisticated part of the rock world. Incredibly compelling, "Parasite" is a track that deserves multiple listens from start to finish.
About Suraaj Parab: He is an internationally acclaimed, multi award-winning contemporary classical composer, pianist, and bassist from Mumbai, India. With 2 albums and one single to his credit, Suraaj grew up listening to Yanni, Yiruma, Richard Clayderman, Alan Silvestri, andJohn Williams among many others.
About Sandeep Kulkarni: He is singer, songwriter, voice-over artist and former RJ, living in Southern California, with over 800 shows to his credit. Originally from Mumbai, he has been part of a few bands in the US. Currently the lead vocalist for the SoCal based band "Rusty Rickshaw", Sandeep is also the owner of "Karmik Studios".
Music Stream Links: https://lnkfi.re/parasite
Suraaj Parab Links:
Website – https://www.suraajparab.com
Facebook – https://www.facebook.com/suraajparab
Instagram – https://www.instagram.com/suraajparab
YouTube – https://www.youtube.com/suraajparab
Sandeep Kulkarni Links:
Website – https://www.sandeepkulkarni.com/
Facebook – https://www.facebook.com/sandykmusic
Instagram – https://www.instagram.com/karmikyatra
YouTube – https://www.youtube.com/user/sandykmusic
Please follow and like us: