Styyle is the new young face of Indy label Powerseat Music Group. His debut Album "Rags to Riches" garnered local buzz with the infectious "S.S.S. (feat. Hasko Montana) began to generate a small following in the Alabama hip-hop seen. His follow up 4EVRSTR8 is a master class in the Trap sound that resonates with anyone that likes their Trap music and club music rolled into one.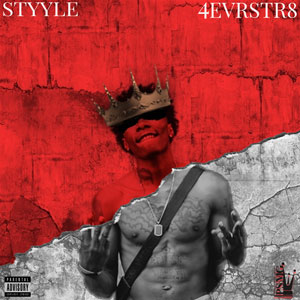 From the "Hit Stick" opening the project kicks off with the sort of in-your-face energy that makes a statement on Styyle's intention: Introducing you to the Baby Face Rebel himself. The high octane music filled with the musings of southern gangster rap is also sprinkled with statements that lament the price of his emerging fame (see: "Another Day").
The project's first half fades from energy to emotion much like daylight give way into night. "Sex in the City" sees Styyle and label mate Cornaztone creating an ode to the fairer sex. The follow up "Heart Froze" deals with the heartache that these dealings can produce.
"4U" punctuates the album with a sobering look at the world though the hopeful eyes of the Trap artist. The album is as aggressive as it is sensitive. It's as flamboyant as it is conservative. There are times to dance and times to reflect. If this is any indication of what we can expect from Styyle the young trap rapper will soon find himself ingrained in the culture. At that point he will truly be "4EVRSTR8".
Styyle is on radio rotation with the track "Race"
Video for "Race": 
Video for "Hit Stick" : https://youtu.be/vYutwe4wEq0
IG: powerseatmusicgroup ; styyle3x
Fb: powerseatmusic
Twitter: powerseatMG
Please follow and like us: