The Swedish singer-songwriter, Johan Ruborg, rides the wave where classic and heartland rock, Americana, and guitar-infused modern sensibilities converge. He delivers a record – with his brand new album 'Villain of the Piece' – that plays for keeps, with a generous slice of storytelling power in tow. John's raw soulfulness, his resonating voice and creativity in songwriting is displayed prominently in this album, and his music presents songs we can all relate to. If like me you are new to Johan Ruborg's music, you will thoroughly enjoy this collection of powerful, soulful, supremely rocking songs.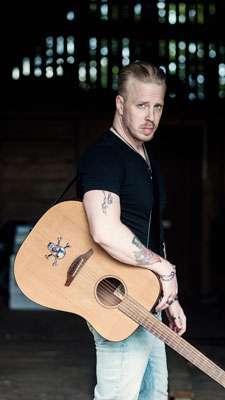 If you are a music lover and tired of being deprived of real talent in today's dreadful music scene, I welcome you to the world of Johan Ruborg. Here you'll discover the kind of greatness that is no longer allowed on the charts today. "I think I'm unique in the way that I try to integrate the old traditional rock music and storytelling with something new and fresh," says Johan, who further clarifies his original status: "I'm not just another artist trying to emulate the big rock artists of the past."
However you don't have to take Johan Ruborg's word for it, just press play on "You Made Me A Criminal", the album's opening track. It kicks off hard, with heavy riffing guitars and thumping drums, but the chorus opens up for Ruborg's vocals to really soar, as he iterates, "Don't blame me Jesus, you made me a criminal. Don't blame teacher, you made me a criminal. Don't blame me father, you made me a criminal. Don't blame me mother, you made me a criminal."
There's not a bad song on this eight track project, but "Join Hands" is another one that stands out to me. It opens with clean, pristine guitars, before Ruborg's gravelly vocal tones dominate the arrangement, and the harmonica slides in for some solid Americana authenticity. "When the Going Gets Tough" really showcases the infinite depth Johan Ruborg's vocal abilities. His warm and deep tones weave their way across the vivid narrative in an almost effortless way.
"Hard Streets" once again points to the power of angular guitar grooves and driving drum beat. On top of it all Ruborg turns up the intensity and the anthemic ratio in his delivery. The guitar solo is pure perfection, with a concise but fiery interlude.
Shadows of vintage Springsteen loom across the heartland-flavored emotion of "I'd Rather Be Alone (If I Can't Be with You)". Here Ruborg gives us another impressive display of his storytelling lyrics and irresistible vocal cords.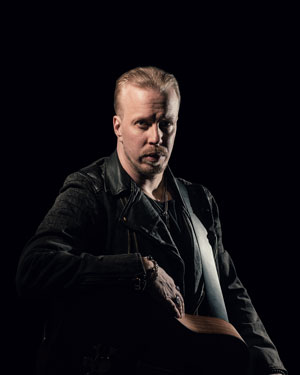 "The characters in my songs – the 'villains of the piece' – are often displayed in difficult situations, down on luck and maybe with a less promising outcome than for the average Joe," explains Ruborg, further elaborating: Still there's always some fighting spirit left in there, an underlying sense of faith and a small ounce of hope."
The above statement is made eloquently evident, on the ominously cinematic, and slow-burning ballad, "Blood Meridian". The wailing guitars, slapping snare-drum, and Roburg's raw vocal sneer, will infect your mind. This track is an absolute album highlight, from any angle you care to analyze it. Johan Ruborg's kicks us into an expansive set of warm, guitar-driven, mid-tempo grooves, with the six-string jangle of both, "We All Need a Plan" and "Good Days Ahead".
The two above mentioned tracks are reminiscent of some of the legendary, Americana-influenced rock n roll singer-songwriters of our time – Springsteen, Petty, Browne and Mellencamp, among them. Musical cycles change and diversity is an accepted form of progress, but real rock has its hard and rules, if you are to be respected within the genre.
 I am glad to report that 'Villain of the Piece' is one of the strongest and most complete efforts I have heard this year by a solo rock-orientated artist. Johan Ruborg's songwriting and performances are nothing short of sensational. His songs are filled with so many countless satisfying moments that they cannot be described here. Just grab a copy and press play. And oh, you'll need the repeat button…many, many times!
OFFICIAL LINKS: WEBSITE – FACEBOOK – INSTAGRAM – SPOTIFY
Please follow and like us: