In the heart of Orlando, Florida, emerges a remarkable artist with an unyielding spirit and a story as complex as his music. Meet Brandon Jones, known to the world as Old Man Brandon. His journey from a troubled past to a example of resilience within the hip-hop and rap genre is a testament to the power of personal transformation. Two decades ago, Brandon was juggling three jobs while funneling every hard-earned dime into studio sessions under a different alias. His unwavering dedication was evident in his tireless efforts—writing, battling, gracing live stages, and seizing every open mic opportunity. Yet, despite his unyielding drive, he felt like an artist in search of his true identity, like a puzzle waiting for the pieces fit.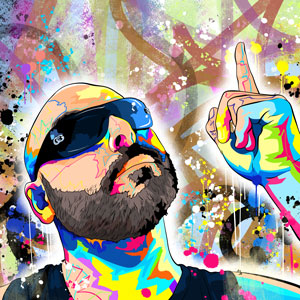 Behind the scenes, Old Man Brandon's life bore the scars of a challenging childhood marked by darkness and adversity. He endured experiences that no child should ever face. As a teenager, he found himself entangled in the perilous world of gangs, drugs, and chaos – a chapter he looks back upon with regret and transformation.
But this is not just a narrative of past transgressions; it's a story of redemption. Old Man Brandon's journey took unexpected turns, as life didn't unfold according to the script he'd envisioned. The grandeur of becoming a mega-star rapper and a Hollywood sensation seemed elusive. Instead, he found himself, twenty-some years later, grappling with a debilitating back injury, chronic pain, and a host of mental challenges. Unemployment loomed over him, and his present and future felt uncertain.
However, in the face of adversity, Old Man Brandon's indomitable spirit shines through. He wouldn't trade his experiences for anything in the world. These past few years, fraught with hardship, have tested his resolve, yet he cherishes every moment. He finds solace in having a roof over his head, a supportive network of medical professionals, a loving girlfriend named Jess, and the unwavering support of family, friends, and his faith community at Southside Baptist Church of Orlando.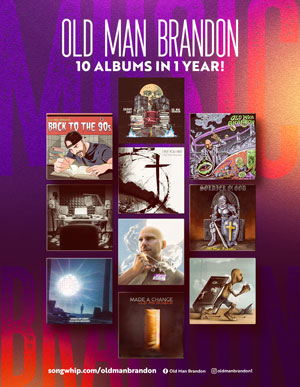 Old Man Brandon's upcoming album, "I'm Not Running," slated for release on September 22nd, is nothing short of a milestone in his remarkable career—a momentous 20th album under his storied moniker, within just two years. As he humbly reflects on this achievement, he attributes his prolific output to a higher power, a gratitude to God that adds depth and authenticity to his music.
This album serves as a testament to the indomitable strength of the human spirit, the redemptive power of transformation, and the art of storytelling in its most raw and authentic form. Entirely produced by the talented Wyshmaster, "I'm Not Running" comprises 13 tracks that not only showcase Old Man Brandon's lyrical prowess but also feature the artistic contributions of Lydia Caesar, Saint Josh, Young Cortez, and Ian Byarm.
From the very first track, "I'm Not Running," through the poignant "Against All Odds," the aspirational "Chasin My Dreams," and the introspective "Delusions Of Grandeur," Old Man Brandon takes us on a lyrical journey through the trials, tribulations and lessons of life. Each song weaves a rich narrative, supported by throbbing basslines, skittering percussion, twisting synth motifs, and ear-catching hooks. These musical elements form the backdrop against which Old Man Brandon's astute wordplay and kinetic rap flow truly shine.
"Going Out On My Shield" and "Biggest Fear" delve deeper into Old Man Brandon's emotional and spiritual landscape, revealing an authenticity seldom seen in hip-hop. "Winner," "Beautiful Day," and "Best Friend" shift gears with infectious melodies and uplifting themes, showcasing Brandon's remarkable versatility as an artist.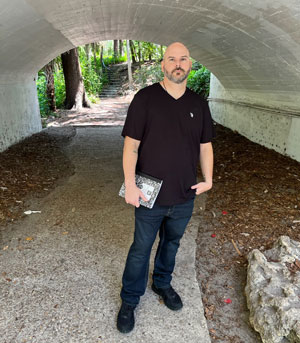 "Determination," "Rather Be Alone," "What it's About," and "Give It All" further demonstrate the depth of Brandon's storytelling abilities. His lyrics cut through the noise of the world, providing listeners with moments of introspection, connection and spirtuality. In "Rather Be Alone," Brandon boldly states, "I don't love this world and don't condone the sin. I follow Christ even if I walk alone with him," emphasizing his unwavering faith and conviction.
"I'm Not Running" is not just an album; it's a testament to Old Man Brandon's resilience and his journey from darkness to light. He invites us to reflect on our own paths, reminding us that redemption is always within reach, no matter how far we've strayed. Old Man Brandon's authenticity and commitment to his craft make this album an essential addition to the hip-hop canon. In a genre often characterized by fleeting trends, Old Man Brandon reminds us that true artistry and meaningful messages can make a significant difference.
In conclusion, "I'm Not Running" is a profound and powerful offering from Old Man Brandon. It's an album that offers listeners a glimpse into the human experience, complete with its trials, triumphs, and unyielding faith. With its captivating storytelling, exceptional production, and Old Man Brandon's unmatched lyrical prowess, this album is set to leave a permanent mark on the hearts of listeners who search for deeper truth in life. Old Man Brandon has not just raised the bar with "I'm Not Running"; he has redefined it.
OFFICIAL LINKS:
https://songwhip.com/oldmanbrandon
https://www.instagram.com/oldmanbrandon1
https://www.facebook.com/JustCallMeOldManBrandon
TikTok @oldmanbrandon
Please follow and like us: