Coming from Indianapolis, R&B artist SOLOMON's main vision in music, is spreading love and happiness while connecting people through music. Since 2014, he has actively worked on his music, creating many songs, as well as music videos. SOLOMON's biggest accomplishments include the release of his first EP, "Alive N' Living", in August 2018. Now signed to Independent Record Label, J Tizzle Muzic, from Indiana, USA, SOLOMON has radio play statewide, nationwide, and even internationally, including a recent radio play deal made with BrooklynStation.com. He is steadily moving, from performing at local venues, such as the Emerson Theatre, State Street Pub and The Hoosier Dome, to eventually performing nationally.
SOLOMON is now set to make an indelible mark with his latest album release, "Learning How To Be Human". It contains 8 tracks of pure performance adrenalin, without the frills and excesses normally associated with modern music. This is all substance over style. It sounds like the personal project of someone who has embraced the ability to make music away from commercial expectations, and more towards human connection.
"Learning How To Be Human" was produced with minimal instrumentation, for the most part, resulting in an immediacy sometimes lacking in the slicker work of his contemporaries. SOLOMON walks the thin line between raw and visceral, hence the songs here crackle with vitality and vibrancy. Above all, stands SOLOMON's voice. The tool which he translates his lyrics into touching stories and eloquent messages.
If SOLOMON's goal was to define himself, and his craft, he could barely have done a better job than he has done with "Learning How To Be Human". The album opens with the slow burning "Solace", which leans almost entirely on the dominant piano and the emotion of SOLOMON's voice.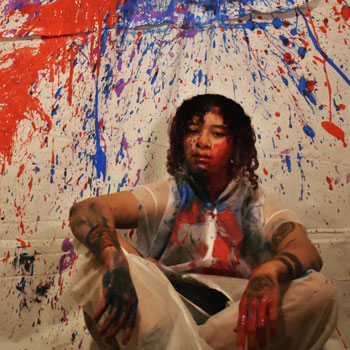 This track perfectly sets the tone and mood of what to expect moving forward. All throughout the album, the singer's sense of melody remains compellingly singular, his harmonic ear bent by his reverence towards emotion-filled atmospherics.
This aforementioned template is beautifully executed on the smoother, more fleshed out, "I See It", and "Now", where SOLOMON multi-tracks his voice into dizzying layers of mesmeric spirals. In each mix, the singer's voice remains raw and unfiltered, as if he is singing in the same room alongside you. This is predominantly evident in one of my favorite songs, "Worth It", where SOLOMON pushes the intensity of his vocal range against the ever-present piano.
"We're all just waiting for our dream to come true. Sometimes dreams don't just come here, you got to get up and chase them," sings SOLOMON, his voice dripping with conviction. That SOLOMON is a sensitive soul, becomes clearer song after song. "That's Life" and "Youth" slightly changes the album's sonic aesthetic, as the instrumentals more draw on the rhythm of the percussion, without however losing its powerful mellifluous flow.
"Save My Soul" sticks to the thump of the drums, and resonating keys, while SOLOMON's voice rises to the forefront. "Soul Searching" combines the familiar piano with emoting strings, for another intense vocal performance from SOLOMON.
Overall, this new album release, takes the listener on a journey through a conscious, impassioned labyrinth of feelings and thoughts, as SOLOMON's ability to encapsulate experiences with strong emotions is highlighted.
"Learning How To Be Human" is a well-thought-out album that will definitely satiate core R&B fans and appeal to music aficionados looking for something authentic in today's fabricated sugar-coated market.
OFFICIAL LINKS: WEBSITE – FACEBOOK – INSTAGRAM – TWITTER
Please follow and like us: