Steve Lang aka Slang, the acclaimed guitarist, musician, composer, and producer, has just released his thirteenth solo album titled "Thrive". The album features a stunning collection of ten instrumental tracks that blend an eclectic mix of rock, blues and pop-based stylings. Listeners can expect a memorable musical journey from "Thrive", as Slang and his team of accomplished featured musicians seamlessly balance diverse aesthetics to create a unique and captivating sound. With its range of musical styles and impressive line-up of musicians, "Thrive" is an album that is sure to delight fans of instrumental rock music and beyond.
Joining Slang on this remarkable recording is an esteemed cast of talented musicians, which includes Jun Abe, a veteran session and live performance musician from the Japanese music scene, who has composed scores for film, TV, and radio, as well as toured with numerous national artists. Misaka, the lead vocalist and main songwriter for Tokyo-based alternative rock band Gurislamar, adds her unique touch to the tracks "Alley Cat", "Vibra" and "Jelly Bean".
Additionally, Tony Spruill, a seasoned touring and recording session musician, who has performed with some of the biggest names in the industry including Earth Wind & Fire, Cheryl Lynn, and the legendary Leonard Bernstein and Zubin Mehta, among several others, brings his impressive sax skills to the mix. Lastly, KoNa, the bass guitarist best known for his work with Tokyo-based alternative rock group Gurislamar, delivers an unforgettable performance.
Slang's instrumental album "Thrive" is a magnificent display of genius and inspiration. Reviewing an instrumental work can be a challenge as it lacks the guiding force of vocals and lyrics, but Slang's mastery of the guitar on the album, allows the listener to effortlessly follow along with the melody and song arrangements. With his superb shredding abilities, as well as rock and metal craftsmanship, Slang leads the listener through the melodic lines that direct each song's path.
As the album progresses, Slang's talent continues to thrill and mesmerize. From the ska-like jaunt of "Alley Cat" to the fiery rock swing of "Moving Mountains", and the intoxicating groove of "Vibra" with Tony Spruill's sax and KoNa's basswork, Slang demonstrates his prowess as a premier guitarist with fantastic creative abilities. These opening tracks showcase Slang's ability to flawlessly combine technicality and melody into breathtaking performances.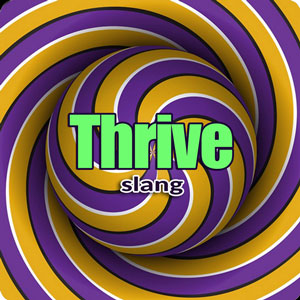 "Flash Flood" is a motherlode of crushing metal power that maintains its melodic and dynamic qualities as it works its way through the motions. On the ballad "Kaleidoscope Sky", Slang's touch expresses itself in poignant purity before transitioning into the driving beat of "Jelly Bean" where Jun Abe's synth solo adds a neat touch. Slang's guitar tone is incredible throughout the album, while the bass and drum rhythm section does an excellent job holding down the fort on tracks like "Shaggy Doo".
While there are many great new instrumental guitar acts pushing the boundaries of harmony, rhythm, and production, "Twirl" shows Slang tapping into the roots of what makes playing the guitar so damn exciting in the first place. "Bounce" flies around the listener with electrifying energy, while Slang's fiery finger work continues to be spectacular. The closing track "Prophecy" hosts an epic and haunting arrangement with luscious strings and both acoustic and electric guitars.
Slang executes the instrumental rock album with an unparalleled finesse. The playing is mind-bendingly good, and the songs are truly songs, not simply extended guitar solos. "Thrive" is a showcase for the brilliance that Slang extracts from his six-string instrument, cementing his place as a masterful guitarist and a limitless creative force. This recording is drenched with character and quality that will capture your attention right from the start.
OFFICIAL LINKS:
Official website: https://slangmusica.com/
Instagram: https://www.instagram.com/slang.music/
Apple/iTunes: https://music.apple.com/us/album/thrive/1671731007
Amazon: https://www.amazon.com/music/player/albums/B0BVP715YF
Spotify: https://open.spotify.com/album/1ps9Nz3MUhvyL1OHgcvJuQ
Line Music: https://music.line.me/webapp/album/mb0000000002bf5356
Youtube Music: https://music.youtube.com/playlist?list=OLAK5uy_m81WbUic_8gU8ICUHuwv3OW4K8gjgDFFA
Please follow and like us: