Sean Blak is originally from ATL and moved to the Bay area during the Hyphy Movement, carving out an undisputable legacy. A popular DJ, promoter, and on air personality, as an emcee, he toured the country with a small tent on the Warp Tour. He has also collaborated with artist such as Prince PO of Organized Confusion, the late Zumbi of Zion I, Kanetic Source of Ozomatle, Myka 9 of Freestyle Fellowship, Cleetus Kasiody, Dell Feddi, and many more Bay area underground artists. Sean Blak records, mixes and produces all his own music, and that of his entire crew on the Rebel Set record label – a 15-man collective of unique and talented emcees. Their album drops on October 30 otherwise known as Devil's Night.
Sean Blak is currently making an impact with his 14-track album, "the whyte album". Standing at its fully loaded track-list, the project is elaborate and dynamic, while Blak's presentation and lyricism are both relentless and self-assured. The album has Sean Blak at his most direct and versatile, consistently flowing at the matched pace that is propelled by each production style. He comes in quick and concise on "Killuminaddi", and flips into the melodically hooked "2 sleep" ft. Maq Steez & E-Piff.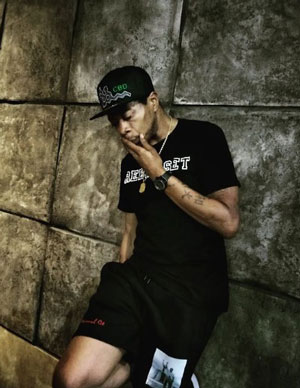 The soulful throb of "no new heroes" completes the opening triple-threat this album launches itself with. Each track lasts only as long as it needs to; gets in, fulfills its purpose, shows off Sean Black's killer lyrical skills and flows, and then moves on to the next powerhouse vibe. Beautiful bass, rolling percussion and shimmering keys surround the leave-no-room-for-breath flows in "church for gangsters" ft. Cleetus Kasiody, Dell Feddi, Max Ledo & E-Piff.
Clearly leaving no room for complacency or one-dimensional performances, the next two tracks "can't let it" ft. Deuce Eclipse and "in the air" ft. Maq Steez paint sublimely introspective and richly colored pictures that will wash across your senses. All of which Sean Blak takes to its emotional apex on "handz". My only complaint here is that the track is too damn short with all that sonic goodness. But then that seems to be the prerogative of this album – pull you in, hold your attention, and then leave you desperately wanting more.
Sean Blak proves himself a diverse, versatile, and imaginative artist throughout "the whyte album". On "pistol right by my piano" and "no exceptions", he highlights the sensorial impact of the nuances in his deliveries, which are made up of much more than just smart wordplay and smooth flows. "sj state of mind" ft. Maq Steez, rolls in on a slapping boom bap beat and a mesmerizing piano motif, supported by some deeply refined lyricism from the emcees.
The mood-creating elements of sound design are perfectly executed, on both, the cinematic-sounding "alpo" and the hypnotic slow-burner, "living halfway".  One of the more powerfully produced tracks of the record, "doa", demonstrates Sean Blak's depth of imagination. It's layered simply, but each instrument brings a distinct and resonating tone that hits you in the feels. Again, at only one-minute and thirty-one seconds, the track is too damn short, so I had to hit the replay button more than once.
The album closes with another soulful jam, entitled "can let it" ft. Alwa Gordon & Kanetic Source. This is different interpretation of a song, which appears earlier on, in "the whyte album". The track takes a calm approach, almost in reflection, and acts as a beautiful closing cut. It really demonstrates his affinity for building an immersive sound, as well as showing his diversity and creativity. This is another hip-hop album that should be on your "Best of" playlist, for 2022.
OFFICIAL LINKS:
Twitter @seanblak
IG @rebelsetrecords
For booking info email djseanblak@gmail.com
Please follow and like us: