It really is quite special to see an accomplished musician developing in the way that Boyana Zhelyazkova aka Boyana, is doing. Finding a niche is a problem most artists face at some point very early in their careers. For most, it's difficult because you've got to set yourself apart from others. Boyana doesn't face that problem. There really isn't a contemporary violinist, singer and songwriter like her, and the music scene is all the better for her continued growth in a number of musical directions. If only more 'popular' music was as ambitious and well-realized as Boyana's, we would have a more intriguing and cerebral music scene.
Spacious yet intimate, constructed yet stunningly organic and natural, on the single, "Return" ft. George Strezov, she's at her most lush and gorgeous, fusing electronic flavors with richly textured organic instrumentation. The shimmering keyboards are balanced against the gentle but thick beat, and the gorgeous strings, which in turn play off the mellifluous elegance of her voice.
Her airy and soulful vocals are the sort that serve as an extra instrument, adding depth to the overall aesthetic. Boyana's expressive voice fluctuates from low murmurs to layered auras that completely envelope you. Boyana weaves her truths in intricate circles, tying up the listener and ensuring they stay exactly where they are for the next 5 minutes, which is compelling.
Overall, "Return" ft. George Strezov, highlights Boyana's creative flair for being able to use the most exquisite sounds to create a magical soundscape. Blending her ethereal vocals with this eloquently shimmering beat, gives life to some beautiful moments. There is fine songwriting and production craft at work throughout. It is in the quieter moments that Boyana is at her most arresting. The entire work is infused with her personal style that sounds like nobody but herself.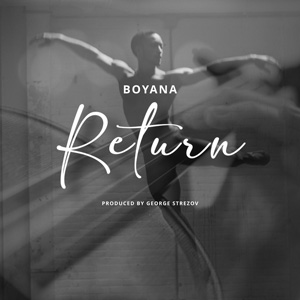 Boyana was able to create a record that is beautiful, poetic, captivating and overflowing with passion. Once you put on your headphones, you experience an intoxicating sensory audio environment. Sounds enter and come so close that you can almost touch them. The depth of the arrangement, mix and mastering by George Strezov is truly enchanting.
What sets Boyana apart from her contemporaries is her truly panoramic breadth of vision. The trajectory of her musical mission is unmistakably forward-looking. A wash of electronic sound propels her classically trained violin work, alongside the organic instrumentation, and her luscious vocals. "Return" ft. George Strezov veritably smolders with emotional introspection and philosophical inquisitiveness. It is a noteworthy single from an artist who seems poised to bring something even bigger to the table.
ABOUT: Boyana Zhelyazkova is a Bulgarian violinist, singer and a songwriter. Part of various classical, jazz and electronic projects, graduated violinist, Boyana has a unique style of improvisation.  The young musician recorded music for movie and game soundtracks alongside with the composers George Strezov, Matt Bowdler, Borislav Slavov- Glorian and played the solo violin for "Two Worlds II", an action role-playing video game that sold more than 2.5 million copies in its first year. In 2011 together with the electronic producer EXo Boyana opened the show of the world-known Dub FX. In 2018 she released an EP called "Songs from the Soul". From then on Boyana has released a couple of singles with various artists.
ABOUT: George Strezov was always passionate about film music – he started working when he was 15 years old and since then he has made the music for various projects, such as the TV series "Durvoto na Zhivota" ("The Tree of Life"), "Na Granitsata" ("On The Border"), the movies "Corpse Collector", "Number 1000", "The Silence", "Short Stop on the Way", the critically acclaimed short films "69", "Every pilgrim's way", "Room Number 4" and "Playing Marbles", the opening music for 2012's Rhythmic Gymnastics World Championship, the documentary series "The path of human civilization" and many more, including music for video games like Haemimmont's "Victor Vran" & "Surviving Mars", Masthead's "Guns & Robots", Ivent Games' "Strength of the Sword Ultimate". He has also written music for theatre, TV, radio, commercials and concert works.
OFFICIAL LINKS:
https://linktr.ee/BoyanaZhelyazkova
https://www.instagram.com/boyanaviolin/
https://open.spotify.com/album/16I9UXw0J2MOiL2IJnOuuB
Please follow and like us: