Save The World is chief songwriter Dan Tracey on guitar, vocals, keyboards; Robert Wright on bass, vocals, keyboards, Taurus pedals, percussion, producer, engineer; and Jon Wysocki on drums. Outside STW, each player has a gilded musical résumé. Dan Tracey is highly regarded for his songwriting, singing, and guitar playing skills.
He's composed music for major television shows and films, and performed and recorded with a variety of established musicians—currently, he plays guitar and sings in the Alan Parsons Live Project. Robert Wright draws recognition onstage and in the studio as a multi-instrumentalist, a songwriter with multiple artist cuts and publishing deals, and as a producer, where he topped the Billboard Country
Album charts multiple times and earned many Gold and Platinum album awards. Jon Wysocki is best known as the founding member of the chart-topping, multi-million record-selling modern rock band Staind from the band's halcyon years, 1995 until 2011.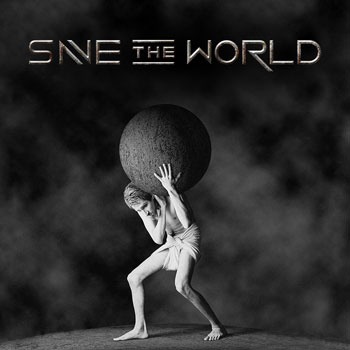 On writing their single "Bleed", writer Tracey says: "The meaning of the song hit me when I was getting ready for that morning's sessions—the pain of getting tattoos allows people to let out their pain and their dreams." Save The World will make quite a ripple in the rock music world with "Bleed", I believe.
It is a track that is a perfect example of music that features lyrics with substance, huge melodic hooks, a hard driven guitar rhythm, and a crazy lead singer on top of it all. What causes this band to stand apart is the fact that their composition and arrangement skills far exceed those of their average contemporaries – no, no names allowed. Their innate ability to take elements of their influences – which stretch 20 years and back – and forge a somewhat new sound rather than imitate completely is equally commendable.
This track, in my opinion, shows the band's versatility and intellect. It is far more emotionally mature than what radio is feeding you currently, though just as catchy, if not more so. Dan Tracey's lyrics and vocal melodies are moving and inspiring, to say the least. As is his riffs and instrumental foundations.
Robert Wright's bass work is strong and forceful. And Jon Wysocki's drumming is driving and intricate. The direction Save The World is articulating in "Bleed" is one much more profound than those of many other mainstream rock or metal bands. For those who look for creativity, depth, and meaning in music, Save The World is of my highest recommendations.
From what I understand there are other singles in the pipeline which will eventually lead to an album – "filler-free", adds Tracey. No doubt the guys know exactly where they come from, their strengths and diversities, but above all they know exactly where they are going…to Save The World!
OFFICIAL LINKS: WEBSITE – FACEBOOK – TWITTER
Please follow and like us: