Saints of Bliss who now consist of Dr Groove, Jono and Henk, have released their latest single, entitled "What Are We Fighting For". Not only does song recapitulate every emotion you've ever felt towards the idea of love and passion towards someone, it recapitulates the magic you feel towards love and passion throughout your life. To know that someone else has these emotions, thoughts, and feelings, whether or not love and passion can truly be as magical as we sometimes like to hope it is, is truly breathtaking and heart wrenchingly over joyous. It does nothing but bring happiness and comfort to hear the honest desire delivered through this song.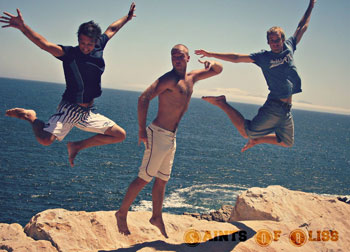 I'm a hard agnostic; sometimes toying with full blown nihilism, but its songs like this that can really make us feel like we can connect on a level that is so important and beautiful. "What Are We Fighting For" could easily be interpreted on a spiritual level too. This band comes across as truly wondrous on this song. You know that feeling inside when you're witnessing something amazing, something so good that your body starts reacting as if it were truly happening to you? It happens to many people during movies and some while watching their favorite sport. Well, "What Are We Fighting For" triggers that same physiological response.
For me, "What Are We Fighting For" is a step up from Saints of Bliss' previous record and really does live up to the hype. The melody, sweet harmonies and gentle guitars just capture your mind due to its sheer magnetic power and the all-embracing textures of the song. The band's writing and singing skills just keep getting better and stronger, since I first heard "Don't Hide Your Love", about two years ago. This track is not anywhere close to any of their previous work and proves to be more mature and have a much richer sound than their sometime punk-rock stylings. Without a doubt, Saints of Bliss wildly exceeded even my most optimistic expectation with "What Are We Fighting For".
[quote bgcolor="#dd9933″]MORE ABOUT: Saints of Bliss have been performing regularly over for the last few years and their exposure has been international. The Saints have produced and released 2 albums, of which 5 singles reached #1 on several radio stations around South Africa! Saints of Bliss have also had many interviews on various radio stations and TV programs around the world. Their first album "Show Me The Way" was extremely popular in local and international music scenes. "In A Sea of Sound", their second album, had a deeper glimpse into the Saint's dynamic and inspirational style of indie pop/rock music. After ending their 5 year record deal with Sting Music, David Quinton (Dr Groove) and Jonathan Quinton (Jono) headed for the UK to take their talent to the next level.[/quote]
OFFICIAL LINKS: WEBSITE – REVERBNATION – FACEBOOK – TWITTER
Please follow and like us: