Lukas Valenza is a DJ/Producer from Pantelleria (Italy).  In 2010 he released his debut EP on Daniele Petronelli's No Logik Records label, and followed that up in 2011 with his first release abroad on Menomale Records (UK), entitled "Clodiè". Lukas dropped another EP on No Logik Records in 2012 and in 2013 with PlastikFM (GER). In 2015 he also released an EP on the respected Mexican label, Tattva Music.
Now, during March this year, Lukas Valenza has dropped yet another EP, featuring the tracks "Yoda Is Playing" and "Hugs", on the Twisted Shuffle Records (Housepital Records) label. Listen to this in the park, and you'll have people staring at you because there's no way you'll be able to keep from bopping along, head and shoulders moving to the beat, and you might feel the urge to throw in a few kicks too!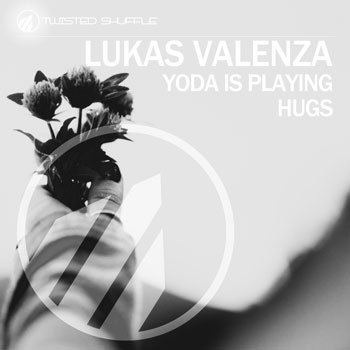 Techno music ages about as well as any other genre of the computer-driven industry. What sounded fresh and futuristic five years ago now strikes jaded ears as tone-dated and often quaint, obsolete by the rampant revolutions of the tech-industry. Only a few artists, transcend the narrowly-set parameters of techno, in terms of musical construction and overall lasting appeal: indeed, if anything, the set structure by which electronica is crafted – the standard build-up/climax/break-down – practically ensure that, fundamentally, what's for out now is the same as all that came before, with only the technology of production itself having improved.
But, as I mentioned, a few artists do break the mold, composing music that is challenging and genre-defying, consistently adventurous to willing ears. Most of these artists are classified with the IDM subculture – designed for headphones rather than dance floors: but there are those artists that are capable of filling both dance floors and headphones – Lukas Valenza is one of these. You may think that beats are exactly the same when you hear them for the first time, but turn up the volume and you'll notice that each note is selected carefully to complement each other.
In a world composed of patterns, Lukas will help you discover something that's hidden behind your daily perception. "Yoda Is Playing" and "Hugs", deliver simple, yet powerful composition of sounds, in blends that have their own beautiful rhythms that are hard to find anywhere else. The songs unfold with amazing precision and taste, highlighting groovy basslines, dark, gorgeous synths, pianos, and uplifting, chattering percussion, all expertly produced and arranged.
OFFICIAL LINKS: BEATPORT – SOUNDCLOUD – FACEBOOK – TWITTER – YOUTUBE
Please follow and like us: