"Dear Me", the 4th single by the Canadian rock band from Southern Ontario, Saints Down presents another one of their finest and most brilliant moment, holding up to their greatness. Although there is a gritty raucousness simmering within, the moments of tenderness flows through, cooling down the tension. All throughout, Benjamin Doncom, Rob Palombo and Walter Riggi,  show their songwriting genius, their musical knowhow, and superlative vocals so well that it's difficult not to notice.
This band is one of the originals and should be one of the most respected in this over-saturated scene. Their music can't be replicated, as it's studded with an unmatched pop-rock style and a deep emotional soul. "Dear Me" crams in the Saints Down crystal-clear, signature production sound, and the far-reaching vocals of Benjamin Doncom, who has one of the most notable voices in the scene.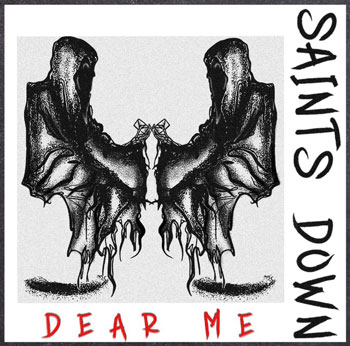 A sprawling, intoxicating mid-tempo slow-burner, "Dear Me" sees Saints Down at their most intense, in an utterly measured manner: pulsating, dense guitar lines underpin a darkly melodic vocal line that teases AOR's edgy side. "I wrote a letter to my future self. I posted it the other day. Return to this address. 20 years from now. By then I hope I'll be Ok. Cuz right now, I haven't started yet. I got no room for worry or regret," are the opening lines to some serious soul-searching and introspection from Saints Down.
Right from the opening throes of "Dear Me", Saints Down deliver power with absolute panache – winding vocalizations around evolving instrumentation, building their wall of sound brick by brick. From the vocals to the music and the production, Saints Down leave no room to be doubted. They expertly build a deliciously atmospheric but gritty record, and manage to do so in a broad spectrum of ways.
Saints Down demonstrate that they can do quintessential blends of pop-rock deftly, and the likes of "Dear Me" is an absolute masterclasses. The defining feature of the track is, in keeping with the band's perfect blend of nostalgia and freshness. It's a sound that's distinct, and very deliberately so, from their contemporaries. On each release, Saints Down, signpost a new era for rock n' roll based music – and in doing so they let us know that they can roll with the times without forgetting past eras.
"Dear Me" is a fascinating record. It distills everything that makes Saints Down such an incredible band. It balances propulsive power with introspective fragility, while the tones of Benjamin Doncom's stellar vocals offer a lasting impact. This is a mature, focused and mesmerizing single, which will take you on an emotional ride – one that you will want to get straight back on the second it ends.
OFFICIAL LINKS:
Website: https://saintsdown.weebly.com/
Spotify: https://open.spotify.com/artist/3PCA7xI23Q3w8ZsKdU9kAC
Facebook: https://www.facebook.com/Saints-Down-103080652125449
YouTube: https://www.youtube.com/channel/UC9tjcfI_iRP8piFIN9YDENg/featured
Please follow and like us: