Those familiar with Rockidle's previous and more recent works will know within a few seconds of "Autumn Air" that this single is a slight departure from his regular sound. The single is one of the 12 tracks to be featured on the album "Relationships 2", dropping on the 29.11.21. You'll find yourself swaying side to side as the record kicks off with the sounds of resonating pianos, rustic drums, and timeless vocals. You get a sense immediately for an alternative rock inspiration, and as the track progresses you pick up on some blues and alt-Americana flavors with a Brit-rock twist.  And you'll soon begin to feel the raw emotion that the vocals have put into the record, allowing for a very unique listen.
"Autumn Air" sees Rockidle creating an earthy and powerful song that speaks to the soul. The singer delivers a heartfelt vocal with a tinge of hopeful adaptation, while the chorus plays beautifully off the verse motif, with a haunting vocal juxtaposition echoing high into the empty spaces. The mood of the track is both epic, yet introspective, as the singer shows offs his vocal range.  Rockidle incorporates plenty of subtle textural and dynamic elements into his singing here, giving it plenty of emotional heft.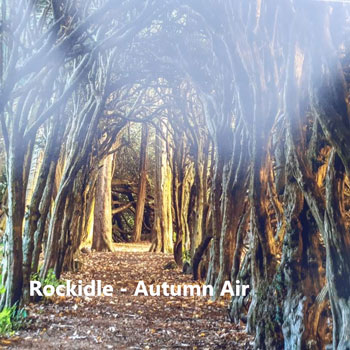 "Autumn Air" shows the world that Rockidle is so much more than what we have heard on his previous releases. This rocker is a musician with a sensitive, deep-thinking and passionate side that explodes forth from his music, when given the chance.
He is not interested in labels or what others think his music should sound like, he puts forth exactly what he feels through his music and he feels deeply. This much comes forward in "Autumn Air" – a song dedicated to his partner, and her favorite time of year.
Haunting choruses add to this track's power, while it is its raw organic underbelly that drives the core of this song. The drums, guitars and keyboards have a loose, live-style production, which gives the song more depth and authenticity.
Sometimes it's impossible to put the right music to lyrics of this nature, but Rockidle absolutely nails it. And when it's time to shine, the guitar comes in to take you on a journey that the words simply cannot provide on their own.
In my opinion, Rockidle showcases his true musicianship and songwriting skills like never before on "Autumn Air" and maybe it took slowing down things a bit, to make his talent shine even more. Not only does this song illustrate how incredible of an overall artist he is, but it showcases how human his songwriting is as well.
"Autumn Air" sounds road worn, introspective, and soulful.  You can hear the experience in Rockidle's voice and his lyrics, and what I hear is singer-songwriter who is far more refined and profound than he normally lets on in his music.
"Autumn Air" has less rock n' roll bluster, but no less intensity and energy than Rockidle's previous releases. This track has everything it takes to make you fall in love with this artist.  Lyrically it's profound.  Musically it is detailed. Vocally it's powerful. Rockidle's abilities as a songwriter, musician and performer are plain for all to see here.
OFFICIAL LINKS: WEBSITE – SPOTIFY – YOUTUBE
Please follow and like us: