Trisstar is a 17 year old female artist from the small parish of Hanover in Jamaica. She writes her own songs and the single "Bleeding" is her sophomore release, which follows her debut single "Go Getta".  The production is moody and contemporary on the new single, while the songwriting is confessional and soulful in nature. It is forthright stuff indeed from the singer-songwriter who unfolds her afflictions, struggles and pains openly. "Mi heart bleeding so deeply, mi friend them deceive me. All the sunshine turn to rain, all the good times turn to pain," sings Trisstar. "It's a mean and nasty world we in. All the pain and the sin, heartbreak and suffering, love wih drive yo insane."
Trisstar is a mix of cutting edge urban attitude and grounded principles, but with a vulnerable side. She appears much older and someone with more life experience than her tender years would suggest. Clearly she is fiendishly talented, ready to pour heart, body and soul into her music – and on "Bleeding" she gets that chance. This is a really soulful sounding operation, done over emotionally played piano chords, and a slow-burning elastic groove.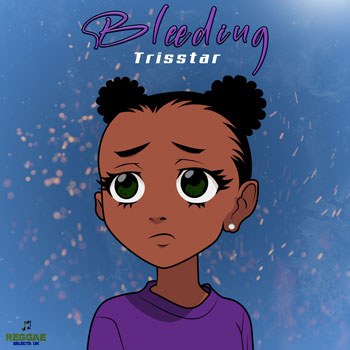 "Bleeding" is both tender and needy, a heartfelt proclamation of being deceived and mistreated. Throughout there is an interesting blend of instrumental textures, vocals tones and a steady beat. Trisstar's warm, but resonant honeyed tones, marry beautifully with the production. She has a great voice and is lyrically frank enough to suggest even more life experiences will flood readily into her music. But right now she is delivering plenty already.
Though she comes from reggae extraction, there are great things going on in the world of Soul, R&B and Pop at the moment, and Trisstar could easily be an integral part of that future if she wants to, especially once she gets the chance to spread her wings even further. Pulling no punches in the song's emotional intelligence, and heartbreaking realizations, Trisstar emerges as one of the most emotionally aware, fiercely open young artists to come on the scene recently.
"Bleeding" carries the emotional punch of someone who's wrestling with interpersonal relationships, personal perspective and self-determination, while her vocals convey confidence and determination.  On this track, Trisstar has crafted something entirely of her own, refined by a canny approach to lyricism and unbridled honesty. "Bleeding" functions as an intriguing entry into the ongoing conversation of how to make and expand upon modern popular music without boxing oneself into complex conventions.
It is incredibly hard not to be enamored by "Bleeding". Trisstar's natural prowess is soothing and commanding while everything around her is in complete service of the song. It is expertly crafted, curated, and sonically alluring.
The song is so absorbed in its desire to communicate its narrative and emotion that it is easy to praise and admire, and even easier to love. An accomplishment for the seventeen year old, "Bleeding", confirms Trisstar's talent, ambition and workmanship. It clearly earns all the applause it deserves, and will achieve, moving forward.
OFFICIAL LINKS: INSTAGRAM – YOUTUBE
Please follow and like us: