The 2014 release of "Rising Star" maneuvered through obscurity and rose REDD to the forefront as one of Detroit's most celebrated up-coming hip-hop artists. Making waves as an indie artist, REDD has gone on to win awards and perform at the Indie Xplosions A3C fest and playing Indie week in Toronto Canada.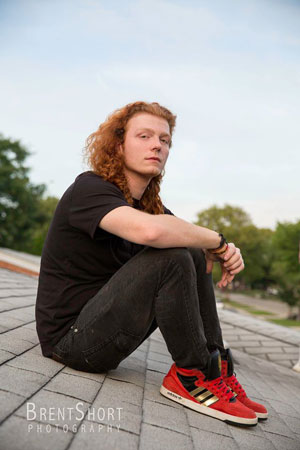 At the end of 2015 he went back into the studio with high caliber producers and has now stepped up to the mic with his latest single "Memories", taken from the upcoming release, "True Colors".
REDD's sparkling skills are presented to the fore in a fashion that renders nearly all else in the mix trailing in their wake – his breathless delivery spills forth neat micro-rhymes, a feel of free-flowing writing, well-thought-out vocal hooks and arm-waving interjections.
"True Colors" is introspective but it's vital; it's broody but it's charming; it's entertaining but it's deadly serious. Accompanying the lyrical acrobatics and emotional depth of the track is some amazing production – straightforward, minimal and to the point. Leaving REDD's verses to take center stage where they belong.
While the existence of top class white rappers isn't a novelty any more, REDD nevertheless represents something genuinely different in the increasingly predictable rap world. The Detroit emcee sounds more focused than ever before and subsequently listeners get an unrelenting storytelling assault, with rhymes coming out like waves, and hooks being sucked into the lyrical whirlpool.
Because this track is so clearly more focused on artistry than on assonance, and more about the message than the medium, it all magically works.
REDD has rapped about personal battles before. He has rapped about the hurdles he's had to overcome before. But this is different. This is the most intimately personal song he's done in some time. He picked the right hook and the right mood-setting instrumental for this one.
There are no silly punchlines to lighten the load. There are no voice changes to make anyone smile either. This is serious stuff, and it's lyrically sound.
OFFICIAL LINKS: WEBSITE – SOUNDCLOUD – FACEBOOK
Please follow and like us: