Singer, songwriter and producer Pipo has released his latest single, "On Me". The new single follows Pipo's 2015 EP "We the Pipo", featuring the hit single "She Calls", Pipo's breakout song, "Battle" and the fan favorite track, "How to Love", all of which have a music videos viewable from Pipo's website. Filippo Gabella, better known to his fans as Pipo, is a 17-year-old singer, songwriter, rapper and producer living in Pasadena, California. Pipo is a self-taught multi-instrumentalist with natural talent for making music and writing songs that has been focal point of his life since the age of 8, when he would often turn shoe boxes into drum kits. It wasn't long before Pipo swapped out the shoe boxes for an electronic drum kit and final a Pearl drum set, which is what he currently uses to play live drums on his shows.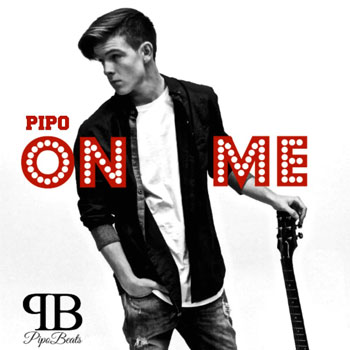 Pipo has a unique and different sound in which distinguishes him from others singers and rappers. He has a groovy fun sound that I really enjoy. It's expansive, spirited, and different. Even from a production standpoint, this is a huge leap above the commercial beats. I love how warm and organic the instrumentation and overall mix is. The keyboards, guitars and especially the drums, just sparkle, mixed with well-produced vocals that aren't compressed to dizzyingly unsatisfying levels!
Pipo has a crazy sense of humor and that adds a lot of fun to the music. He isn't trying to be hard or deep. This is where alter egos shine and you get a sense of getting to hang out with Pipo and what he might be like off stage – which is a weird thing to say about a song. But it just has such an uplifting vibe and is full of energy. Yeah, it's white boy rap, but its original, real, and it's perfect for what he is doing. His music is catchy enough for people to want to jam to, while the production is advanced and complex enough to keep people listening rather than just being a party banger.
Pipo isn't afraid to sing and say what every other rapper won't say, and he's not caught up in what every other urban artist is trapped in – mainstream or not. I think it's cool. He is a seventeen year old dude, doing exactly what a young artist of his age should be doing. He makes music real people his age can easily relate to, not all the big "pimpin'" and fake "hard core" stuff. Pipo is truly an inspiration to listen to and such a creative young writer. The song, the production, the lyrics, and the vocals really work well to make "On Me" surefire hit material.
OFFICIAL LINKS: WEBSITE – FACEBOOK – TWITTER – INSTAGRAM – YOUTUBE
Please follow and like us: