Narmeen Iftikhar was born in Guwahati, Assam: a northeastern state of India from a family who has always been passionate about various art forms, including Indian classical music and dance. A trained Odissi dancer, Narmeen also learned Hindustani classical music extensively from Gitayan Sangit Vidyapith, and after graduating from Bangalore University in the year 2004, she decided to move to the United States where she completed her Master's Degree from the New York Institute of Technology in Communication Arts in the year 2008. Apart from working as an MTV intern, Narmeen continued her music training under the able guidance of legendary Ustad Hamid Hossain.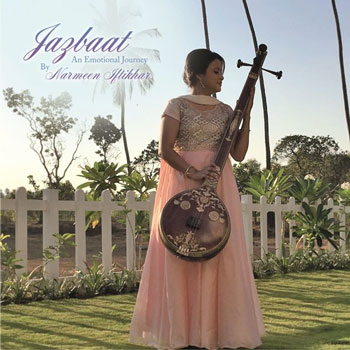 Narmeen Iftikhar has since become an award winning performer for her Hindustani Classical Vocal Music and has also entered into the Grammy Awards nominations via the world fusion group Melodic Intersect. Narmeen recently released her 8 track album album "Jazbaat – An Emotional Journey".
Now I am not an expert, or even vaguely knowledgeable about Hindustani Classical Vocal Music in any way, so my review is based exclusively on the aural beauty my ears perceive and not on the technicalities of how the music was executed at all.
Gladly, Narmeen is kind enough artist to enlighten would-be listeners about her art and craft. And her website extensively describes the style and history of the music. One of the most intriguing passages taken directly from her website recites the following: "Indian classical music is based on ragas (melody) and talas (rhythm), but not on harmony, counterpoint, modulation, chords, dynamics and other structural elements of Western (classical) music. Furthermore, the tradition of Indian classical music is an oral one. The guru teaches it directly to his disciples. There is no written tradition as in Western music."
I think this should help many to better understand how the basics of how the songs are developed.
However, my experience has taught me that it is not always imperative to completely understand how music is created to enjoy its aural beauty. Sometimes you can just put music into a player and hit play. The sounds themselves will captivate and pleasure your senses, as well as ignite your deepest emotions.
"Jazbaat – An Emotional Journey" does all of those things. Take your time to listen to this. And then take your time again. Many times. It will grow and then perhaps you will hear it. This album tells a story, and that is a story of love in its various guises. As Narmeen herself explained, Jazbaat is a Ghazal album set around the theme of love.
Ghazal is a common and popular form of music in Indian and Pakistan. Strictly speaking, it is not a musical form at all but a poetic recitation. The poetic arrangement of the Ghazal is precise. It is based upon a series of couplets which are woven together by a rhyming formation. Narmeen Iftikhar has a rare lilt in her voice, a silken touch, a special something – which makes her stand out in the world of Ghazal singers. She is in perfect control throughout.
When I listened to the tracks on "Jazbaat – An Emotional Journey", it was as if, Narmeen was singing moments from her life, to me, though I couldn't understand a single word. You realize that Ghazals are totally different from Rock, Pop, or other mainstream styles, or even the Hindi film music you may be more acquainted with, as they touch your soul in deeper, more sensitive places.
But they do so with lighter, airier and more scintillating musical arrangements. It's that almost feather-like touch of the Ghazal, as sung by Narmeen Iftikhar, which is able to soothe all the pain and sorrow we may carry in our hearts.
OFFICAL LINKS: WEBSITE – AIMREC – CDBABY – SPOTIFY – SOUNDCLOUD
Please follow and like us: