I'll be honest I didn't know what to expect from "Whip Sessions II", after N0va's last impressive album, "Hour Glass", and his previous critically acclaimed original, "Whips Sessions". Right off the bat, if you're looking for the latest auto-tuned trap vocals, multi-cameos, street type braggadocio, or gimmicky southern accents look elsewhere. This is just N0va, doing what he does best, flowing effortlessly over insane old school and modern beats. Immediately after popping this album into my player, I was instantly transported back to the better days of Rap and Hip hop.
N0va flows effortlessly and seamlessly against beats that some may consider futuristic vintage. Even more amazing is that these beats sound so much better and fresher than 99% of the beats churned out currently thanks to the producers, Noise System, Young Taylor, Quote, and Lucid Sounds.
And unlike the recent trend of rappers muttering incoherent babble and passing it off as metaphorical, N0va actually makes sense in his lyrics. He doesn't try to get so cute that it comes off contrived, nor is he boring or unskilled. Like most master wordsmiths, he makes it look easy without trying.
I literally played this album from beginning to end without skipping any tracks and amazingly, enjoy every second of it. That's more impressive than moving a million in a week. People are moving millions on the strength of one or two singles.
N0va gives you your full time's worth here. Too bad many people are more interested in swagger and images in Hip Hop instead of truly great music. If it were the other way around, this would be the top album of 2017.
The production is solid, the verses are tight, and the productions are smooth and cohesive. We need more real hip-hop like this to show and remind people of what hip-hop really is and was. "Whip Sessions II" represents everything we expect from a Hip-Hop album without being commercial – Unique, clever rhymes and simple head bobbin' rhythms.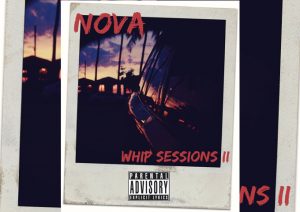 The album suggests N0va feels he still has something to prove, which is understandable for a solo album which is only his third. Yet at the same time N0va's infectious enthusiasm for being where he wants to be, doing what he wants to do, shines through these songs here.
"Whip Sessions II" reaffirms his stature as one of underground hip-hop's most refreshing talents by waxing unassuming, cool-headed and wise with his thesaurus-thumping wordplay and beat-demolishing flow.
As usual picking standouts on a N0va album proves a daunting task, as they're all good. Let's just say that the songs which are well-structured and executed with professional precision include, "N.0.V.A – Produced by Noise System", "K.O.T.H (New York New York Remix)", "Swingset (Slow Burnin Remix)", "Spun – Produced by Young Taylor", "The Chase (We Nah Easy Remix)", "Remember – Produced by Quote" and "Hindsight (Last Dayz Remix)".
With all the redundancy that exists in hip hop music today, anything different sounds refreshing but "Whip Sessions II" has the proven ability to take it a step further and progress the fundamental sound of the origins of hip hop music a little bit more. It displays N0va's talent and versatility. Everything that you expect from him is here!
OFFICIAL LINKS: BANDCAMP – SOUNDCLOUD – FACEBOOK – TWITTER – INSTAGRAM – DATPIFF – REVEBNATION
Please follow and like us: