Mr.Depression aka LA Lost DjiEazyP, whose real name is Zashaun Smith, was born in Myrtle Beach. The Founder and CEO of Wolf Image Studios and a handful of other small businesses, has been building his brand and acquiring new fans and followers along the way. The pop and R&B artist started working in a carwash at the age of 10, and by 14 he was already running his own lawn care business, which gives us the measure of his ambition and drive. Mr.Depression's versatile, dark but alluring sound is aligned with what's become a staple in the R&B category, allowing his music to pierce through to the forefront alongside the trendsetters.
The consistency of Mr.Depression's songs, trickles into his mission of creating music with emotion and a message. His penmanship drips with authenticity, which can be felt through the vibes he sends via his tender, echoing voice. His ethereal R&B sound resonates over his blissful, dreamy beats included with his sprinkle of auto-tuned melodies. His idea of modern R&B rings true, as he floats on a mysterious but engaging sound on his latest track, "Blue".
Here Mr.Depression, as an artist, creates sustainable storytelling, which satisfies his core fanbase of melancholic and afflicted souls, while also displaying his artistry. "What is it like be blue? Pain and sorrow. What is it like to be blue? Crying every single night alone. Not having nobody there inside of your life," laments Mr.Depression, as he unfolds his emotional narrative. "What is it like to be blue? Having scars on your arms wanting to end it all," he concludes.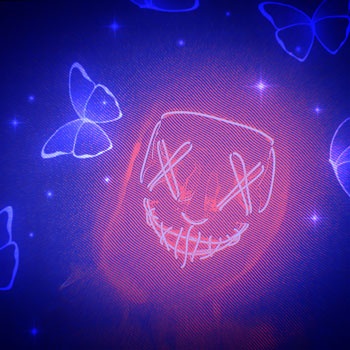 "Blue" not only provides a comprehensive outlook on an afflicted life through the eyes of introspective songwriter, but it also harbors a radio-worthy sound and a slow-burning chilled vibe. It is a pensive and meditative project, telling a story of vulnerability and pain.
It not only showcases Mr.Depression's flexibility in a downbeat style, but also satisfies a niche within the streaming-era, providing an R&B story, combined with a melancholic and sad-boy aura.
With "Blue", Mr.Depression delivers one of his most relatable bodies of work yet. As a listener, every emotion that you can feel, you're able to thoroughly feel here.
Add the mysterious charisma of Mr.Depression's performance stylistics, and the track creates such a vibe that will move each and every single listener who plays the project. Mr.Depression finds himself analyzing, evaluating, and ultimately questioning the effects and mechanisms of loneliness.
Mr.Depression shines a light in the darkest corners of our psyches that can be felt by any and every listener. It is the perfect infusion of music and emotion, and literally creates an alluring effect that listeners will simply not get enough of.
The production is intoxicating and makes you feel as if you are floating on a darkened cloud in purgatory. You literally don't even have to currently be dealing with any issues to feel Mr.Depression and his passionate performance. He literally creates goosebumps as he uses insightful wordplay and clear imagery, to unfold his heavyhearted tale.
OFFICIAL LINKS: TIKTOK – LINKEDIN – INSTAGRAM
Please follow and like us: