Mflux & The Bass Rangers, who have been rather successful dabbling in the ever expanding Country-dance and Americana influenced club concept, which is a hybrid mix of EDM, Country and Techno, have been working on various projects in the past months.  One of these is "Hulakadone", a tiny concert, by Mflux.
The music and video on this project was handled by Mflux while David Baxt (The Bass Rangers) added the vocals. Mixing was done by Axel Schlafke while the mastering was completed by SRS Mastering.
Mflux here, releases a dirty, relentless and brooding, thickly-lain bass and dance-floor jarring beat which manages to generate the feeling of literally being underground. Mflux, however, deftly provides precious breaths of fresh air with expertly mixed vocoder-induced vocals riding distinctly along the pedantically grooving synth basslines.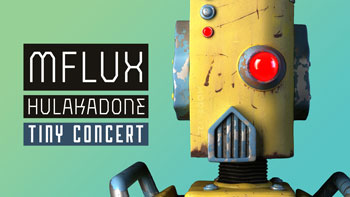 A potential caveat to the skeptic out there: Mflux uses vocals; do not let this deter your interest, or even a listen. This distinctive DJ-Producer makes use of vocals in a tasteful way, and for the most part they sit completely comfortably within the music.
And as always David Baxt's robotic vocals totally suit the theme and really enjoyable. Most of the vocals sound as if they were being chanted beneath the surface while sounds and reverberations jive well in accordance with the deep bass. They add a fundamentally different edge to the mix.
Mflux somehow manages to incorporate a fairly commercial flow into the song, in the same way Daft Punk has successfully done in the past few years. I think Mflux meant to be playfully deceptive; by the minute-mark, the thickest, hardest beat rattles the organs and exercises the heart with its intensity.
Once the track picks up at the two-minute mark, looking back is futile – you're in for the whole-run, which is a journey of crunchy synth sounds and animated vision.
In a heartily-crafted nutshell, imagine Mflux & The Bass Rangers' better tracks expanding upon the depth of an almost pure Techno sound and character. The result is a sophisticated dance track by Mflux of both creative, dutiful insight and playful abandonment. The point is you can never go wrong with Mflux, no matter which project he delivers.
OFFICIAL LINKS: WEBSITE – FACEBOOK
Please follow and like us: