AMERICAN IDOL finalist James Durbin and QUIET RIOT guitarist Alex Grossi have announced their collaboration effort, entitled "Maps To THE HOLLYWOOD SCARS" – The first 5 song EP has been released worldwide via NEW OCEAN MEDIA on February 17th, 2017. The band is currently putting the finishing touches on "Maps To The Hollywood Scars – Volume 2″ – Set for a spring release, as well as their first video, which will be released in the coming weeks. Recorded at Desert Moon Productions in Las Vegas, the EP showcases the darker side of Hollywood and the music industry – as experienced by two people that have taken two different paths, yet ultimately found many common themes throughout their respective journeys. The first of the two EPs features a guest appearance by longtime GUNS N' ROSES keyboardist Dizzy Reed, as well as programming and engineering by A.J. St. James (The Big 4, MTV).
Do you love rock n' roll music with heavy production and huge vocal harmonies? Are you always looking for songs with massive hooks? Do you crave chunky guitar riffs and fiery solos. Do you fancy hearing a straight rock album built on strong vintage core elements and carefree modern-day flair. Then this is the EP for you! This has everything a fan of solidly produced, written and performed rock could ever want.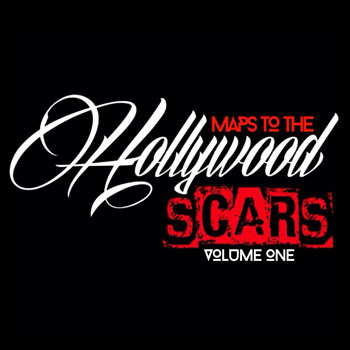 Highlights include the amazing pure rock anthem "Roads", the powerful "The Lost Boys", which was directly inspired by the Eighties cult movie of the same name, and showcases the magnificent range of James Durbin's voice, as well as "Never Ending Ride", which narrates the tale of two lost souls trying to find life in a post-apocalyptic world. Though radio-friendly this EP manages to capture the true essence of rock n' roll. Something for everyone would be the first answer that comes to mind.
Alex Grossi's songwriting ability has never been in doubt. If you want catchy hooks, stupendous vocal harmonies, sing-along choruses, and massive anthems he is your man. This is an artist that doesn't really have anything to prove anymore and to my mind he sounds all the better for it. And it is this quiet confidence, blended with the edgy youthfulness of James Durbin, who still has plenty to prove, that sparks the electricity on the EP.
Fans of particular eras in rock's history will find something for themselves here, each of them something different. Assuming that was one of the actual ideas behind recording this EP, the goals were made reality. With big smack-you-in-the-face hooks fit for stadiums, multi-layered vocal harmonies, sublime production values, swaggering guitars and dynamite soloing  "Maps To THE HOLLYWOOD SCARS" brings on a rock n' roll rebirth.
Overall I am very impressed with "Maps To THE HOLLYWOOD SCARS". Of course it nods to the genre's glory days and has all the old hallmarks in there, but it also has a fresh flavor that doesn't make it sound out of place or old-fashioned in 2017.
OFFICIAL LINKS:
www.facebook.com/hollywoodscars
Please follow and like us: