Born and raised in Los Angeles, CA and migrated to the Midwest, Madam OG is a seasoned lyricist and songwriter, who started her music career at the tender age of 12. However, in 2006 her career took a different path, veering towards being a model and fashion designer. Now the owner and operator of A$tra Entertainment Agency LLC., Madam OG has put her passion for music back in the spotlight, and is determined to take her career to new heights, with her team to follow. A quick listen to her EP releases, "Outta Darkness", and "Into The Light" sees the artist throw her name into contention for the queen of contemporary rap. The moment the music kicks in, Madam OG grabs the beats by the balls and demands you know her name.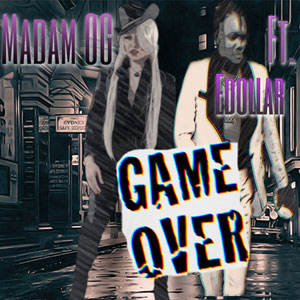 The prominence of the thunder and flow of Madam OG's voice escalates at an exponential rate on "Outta Darkness", which opens with the track "Under Veils". Gritty guitars, echoing horns and rolling basslines underscore an impactful delivery from the distinctive femcee.
Things stay dark and eerie on "Nightmares" ft. KUMA. Madam OG's vibrant personality and forceful attitude shine through here, while KUMA adds a dose of urgency to the hook.
"Mix Up" ft. KUMA adds more melodrama to the proceedings, as Madam OG unfolds her aggressive, stream-of-conscious flow. It has the ability to send shockwaves through the entire body.
She's mastered the art of nuanced and dramatic deliveries, as well as embracing her pipes of steel, which she unleashes on "Game Over" ft. Edollar. She spits words that cut through the soul like a razor blade on "Hustler", making a tried-and-tested genre feel fresh and vital.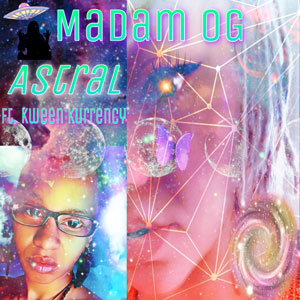 Though Madam OG is a skilled rapper, it's her voice that is especially huge and impressive. Her inherent charisma and charm go a long way to make her messages convincing. Throughout the course of the 5 tracks, Madam OG flaunts the fact that she can literally rap over anything.
The EP is a perfectly curated, succinct, and a poignant picture of being a powerful female emcee who needs no lessons from her male counterparts. On the contrary, she may be able to teach them a thing or two, along the way.
"Manifest" ft. That Boy D, opens the EP "Into The Light". It captures Madam OG's indomitable essence in just over five minutes, with a burst of confidence that perfectly brings her audacious side to the fore.
Bold and brash "Vibrate Higher" is a no-holds barred track exhibiting the power Madam OG holds within. Her explicit lines flippantly boasts her spiritual awareness and her artistic dominance. As female artists come to dominate rap, hip-hop and any genre they choose to, Madam OG's name will soon start to dominate the center of the room.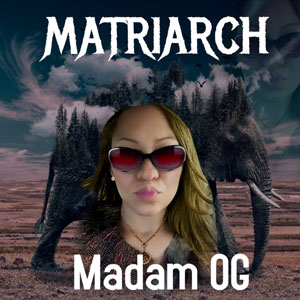 "Astral" ft. Kween Kurrency, rides on shimmering guitars chords, rumbling basslines and skittering hi-hats. On top, Madam OG's breathless and untamed delivery can't be sedated. All artists hope listeners can see a piece of themselves in their music, but Madam OG takes it a step further, building a virtual world, which you can step into.
"Sweet Love" ft. GawdBoss hovers around an Afrobeats-styled groove, which gets deep into the marrow of your bones. The EP closes with the ominous "Matriach", which the usual relentless flow by Madam OG, but is enhanced by soaring melody in the hook.
Overall, the EP releases, "Outta Darkness", and "Into The Light" showcases all sides of Madam OG's art. They capture the sound of an incredibly multi-talented artist indulging in her musical fantasy and excelling at it. These are manifestos proclaiming her sonic boldness, artistic creativity and career progression.
OFFICIAL LINKS:
https://astraentagencyllc.wixsite.com/astraentertainment/madam-og
https://youtube.com/channel/UCOQbbsttflXZPYCZ7jWlYvg
https://www.instagram.com/iammadamog/
https://vm.tiktok.com/ZTdUxE15X/
Please follow and like us: