Xyviera (Zi-Vi-Era) Monet Daniels, known as Lulu or Lulu216, is a 16 year Cleveland, Ohio, born and raised singer-songwriter. Lulu prefers to call her musical style "Eclectic Hip-Hop", which is devoid of any cursing, money, sex, drugs, and gun lyrics.  Instead, Lulu216 promotes uplifting messages or lyrical images that connect to strong emotional challenges.
Her style is heavily influenced by the myriad of instruments she taught herself to play. Between the ages of 5 and 7, she began playing the guitar and piano. By the age of 12, she also mastered the trumpet and drums. All of these instruments create the broad musical landscape for her songs.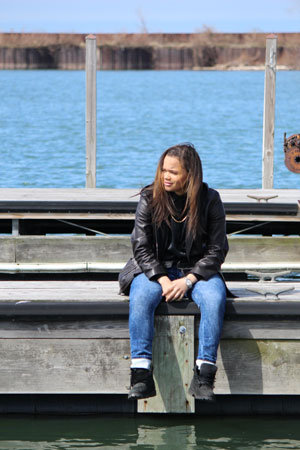 Lulu216 is busy completing her debut album, "Life Before Fame", and has currently released the single "Critics", which she says is "an inspirational song that motivates dreamers and achievers to ignore those that do not have their best interests at heart."
I am very impressed with Lulu, especially with her creativity and sense of beat. Forget that she is 16, as Lulu216 is lyrically mature well beyond her years, and while other lesser artistic beings are grabbing the spotlight, she glistens within her own, original work.
In a world with poseurs searching for street cred (and mysteriously getting it) and bashing everybody for all the wrong reasons, isn't it nice that we've got the likes of Lulu216 to truly shake things up and defend the insecure, the mistreated and the sometimes ridiculed creative minds that abound in our society.
She spins hard-hitting words, she razzle dazzles with rhymes, and serves up pitch after pitch of positively uplifting bars. She can be smooth, she can be aggressive, but mostly she can be understood with her crisp and clear delivery.
Her songwriting shows a sensible artist in a rap world where females are dominated by body baring threads. She's not afraid to talk about insecurities or failures, but she's mainly prompted by pouring out empowering messages. Her themes are inspiring; it's not about pleasuring men and being submissive.
She portrays confidence and sophistication through her music and that is an important message to send to not only to women, but to the entire youth today. She is also ably supported by Nahzzy who weaves in a solid verse on "Critics".
"Critics" displays a diverse arsenal of firepower – from its beat production to its lyrical content. Lulu216 has the right combination to not only make any track sound great, but to have it resonate strongly with listeners. I don't see any reason why not to give this track a full five stars.
For Lulu216 to eventually become the undisputed champion of conscious female rappers, sounds more like a serious commitment than a simple promise!
OFFICIAL LINKS: WEBSITE – TWITTER – INSTAGRAM – ITUNES – AMAZON
Please follow and like us: