It's always great to see a band evolve and branch out in new directions. What is even better is to see them succeed at this difficult endeavor. With their latest single –  "Pillz (The Sky is Falling)", we see L.A. based alternative rock band Love Ghost continue on the path of evolution into much more than a rock band . They incorporate trap beats, rock grit and rap verses, to really diversify their sound on this recording. It's really impressive to hear this sonic distinctiveness which demonstrates this band's talent, and their fingers on the beating pulse of modern trends. I really can't think of any negatives on this track, which will be blaring it in my car for weeks to come.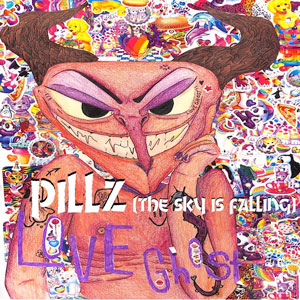 Love Ghost have never had any trouble writing epic songs with profound narratives and massive hooks, but there's a greater maturity about "Pillz (The Sky is Falling)", as sonically they step outside of their comfort zone. "This song is about addiction, but more specifically how everything can look as if it is positive on the outside but in reality, it is not. It is really about perseverance and resilience when your life is falling apart," explains the band.
"Pillz (The Sky is Falling)" displays Love Ghost's ability to take the audience to peak excitement, then rein in back, only to unleash that ferocious sound once again. The energy of this track is phenomenal, and both the sung and rapped sections really stand out.
Musically, Love Ghost can't seem to sit still, and they're fortunate to have gotten so far on this creative restlessness. The way the band continue to build on past successes in the pursuit of more personally meaningful music should be celebrated and admired.
"Pillz (The Sky is Falling)" has all the urban edged emotions and outspoken honesty you'd expect from a lyrically inclined rap track, but it still packs all the punch you'd expect from a pure rock band. Vocally Finnegan Bell is on point from start to finish, while the rest of the band appears to be stronger than ever. All of which gives them the chance to revamp and consolidate their sound into something formidable.
This major pivot in direction works surprisingly in their favor, as Love Ghost will now appeal to a much wider audience, much in the same way Linkin Park did at the height of their popularity. In fact, Love Ghost has inherited that same "edgy verses, soaring choruses" formula that mesmerized both rap and rock fans, during the late nineties and early 2000's. Finnegan's rapping is evenly paced and natural sounding, while his gritty melodic singing style is very reminiscent of Chester Bennington in the best ways possible.
As usual the production on "Pillz (The Sky is Falling)" is flawless, as the track shuffles through subdued and downtrodden verses before explosively spiking the choruses with massive driving guitars.
Everything sounds extremely crisp, and even in the denser moments, every instrument is discernible without becoming a messy wall of noise. Other highlights include the ferocious guitar riffs and solo, as well the cinematic keys, and the hypnotic bass and drum rhythm.
I just can't believe how quickly and seamlessly Love Ghost have found and honed their new identity. "Pillz (The Sky is Falling)" finds the band pulling an incredibly sharp left turn; tight, confident, and with no sign of fat or excess. It's really a case of night-and-day, and an uncanny breakthrough for a band that was already formidable before this release came about.
On each subsequent release, Finnegan Bell (Guitar and Vocals), Ryan Stevens (Bass and Vocals), Samson Young (Drums and Background Vocals), Cory Batchler (Keyboards and Vocals), Daniel Alcala (Guitar and Background Vocals), seem to know exactly what goals they want to accomplish, and then proceed to pass it with flying colors!
OFFICIAL LINKS: WEBSITE – APPLE – INSTAGRAM – YOUTUBE – TWITTER – FACEBOOK – SOUNDCLOUD – SPOTIFY
Please follow and like us: