THE BAND FEATURES CURRENT AND FORMER MEMBERS OF PETE RG, PEARL JAM, CANDLEBOX AND SKILLET
With their recently released "DOOMSDAY NOISES" EP, Sons of Silver take on issues in society and kick the door open for further discussion. Stream it here: https://lnk.to/DoomsdayNoises
The group's collaborative songwriting style, artistic connection, and collective years of experience is part of what makes this band a standout. Sons of Silver is frontman Peter Argyropoulos of Pete RG, original Pearl Jam drummer and recent Rock N' Roll Hall of Fame inductee, Dave Krusen, Candlebox bassist Adam Kury, former Skillet guitarist Kevin Haaland, and keyboardist and esteemed engineer Brina Kabler.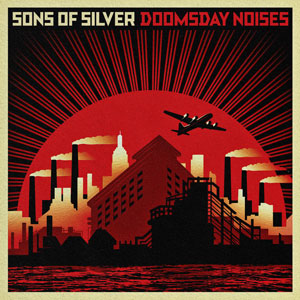 While the EP's title might seem well-timed the songs on DOOMSDAY NOISES, are spin offs from jam sessions that took place in 2019, they were written and recorded before the COVID-19 pandemic, before the death of George Floyd and the ongoing protests that began in response, before armed civilians and militia groups surged into public view, but you'd never know it based on the lyrics. Backed by beyond solid musicianship Sons of Silver take on issues of social division and outbreak in this foretelling five-song set.
Going for ads at Rock Radio this month is the very timely, "Deep Division" which highlights Argyropoulos' soulful vocals as a post-punk guitar riff powers the verses that lead to a melodic chorus.
"The lyrics to this song really speak for us as a band," Argyropoulos explains, "We write and create our music, collectively. We celebrate collaboration. We're careful to be inclusive and open to all thoughts and ideas. We embrace our differences. We respect and protect each other no matter how much we might disagree. We move forward together. We've learned that division is very destructive, and it begins when listening ends. So, we're always listening."
Follow Sons of Silver on:
https://www.facebook.com/SonsOfSilver
https://www.instagram.com/sonsofsilverband/
Please follow and like us: