KnowledgeΔustin is an 18 year old Hip-Hop Artist from the small Florida city of Sarasota, FL. His father, DJ Superyakk was well known around the city, and specialized in old school music genres such as; funk, soul, jazz, fusion, and some forms of rock n' roll. Sidney aka Knowledge, has been doing music for over 7 years, but been recording his own music for 5. Knowledge does everything from producing, mixing and mastering as well as photography, writing as well as work instrumentation. His career trajectory runs counter to that of an artist working to infiltrate hip-hop's mainstream.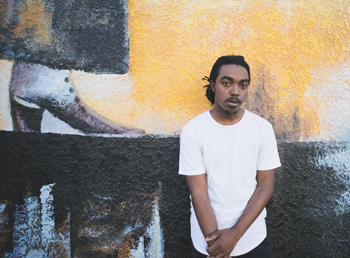 He doesn't seem to pine for the A-lister referrals and feature circuit ubiquity that lubricate the most well-oiled artist rollouts. He doesn't search to hobnob with hit makers or kowtow to the will of radio. Instead KnowledgeΔustin launched into an exploratory experiment; a soul-themed hip-hop album.
"Hip-$oul" isn't an album that will inspire a revolution, such as Public Enemy's It Takes A Nation of Millions to Hold Us Back. It also isn't an album that will evoke a deep and profound psychological reaction, like the Roots' Things Fall Apart. What "Hip-$oul" is, though, is something just as unique and treasured: an album that is the raw undistilled manifestation of the artist's creative power, combined with the technical ability to polish it into a shining diamond of an album…at 18 years old!
KnowledgeΔustin is a technician on the microphone, hitting you with a precise flow in each verse, while maintaining a cool, charismatic personality. The beats, possibly influenced by J Dilla in places, but certainly not limited to that, are funky and soulful.
The production moves each song along with a sharp bounce and a deep groove, but never gets in the way of the verses. The opening track, "All on da (One) sets the mood of the album, before kicking off official with "Reminisce" which beats to a rolling bass line and some fiery verses. "Changes (Prod.Donato)", showcases mid-tempo, dreamy riff and lots of vocal harmony, along with some serious rhyming.
One of the best tracks on the album, "70 (5ive) (Feat. LAGARIAN) (Prod. TaylorKing)" makes your head nod, your brain chew on the lyrics, all while your heart feels full. This feeling is also recreated one track later on the funk-driven "Got My Mind Made Up (Feat.Shambased)". "Soulerlude" and "Real ( do I keeps it)", are another two outstanding cuts, which carry the "Hip-$oul" theme comfortably.
If I were a professor of hip-hop, "Real ( do I keeps it)" would be a track I would hold up to my students as having almost every element that makes a great hip-hop song. The beat is driving, layered with a full-force horn section, it grips your ears and doesn't let go. KnowledgeΔustin lyrics, rhetorical yet educated, show a rapper coming into full bloom.
"Hip-$oul" is the result of when an artist hits a sweet spot in the recording. His music is still pure, unaffected by label demands, budget constraints, and the pressure of having to follow up quality work. The artist is young, hungry and ready to show and prove. KnowledgeΔustin does that and more, blending his style into a soulful and vibrant album that is a great listen, front-to-back.
OFFICIAL LINKS: SOUNDCLOUD – YOUTUBE – FACEBOOK – TWITTER – INSTAGRAM
Please follow and like us: