In a world of repetitive mumble rap and boring trap beats, an album like "Keys To The M.O.E" comes as a big surprise to those who grew up on detailed lyrics and creative beats. Kilo M.O.E's latest attempt at blending contemporary beats with his tenacious lyrical flow is drastically more successful than his last record on just about every measurable level. The production is absolutely modern, but many of these beats have a dark edge that pairs much better with the aggressive flow Kilo M.O.E has perfected throughout his career. And Kilo M.O.E has put together a rather sturdy career, though he has done it quietly.  Somewhat under the radar, he has created a catalogue of inconspicuous excellence, of which this album may just be his absolute best.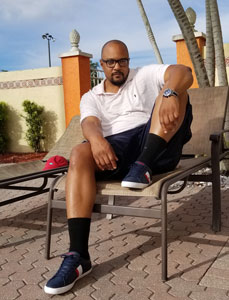 Kilo M.O.E has been what you may call, an under-appreciated component of the underground movement. An understated workhorse, a charismatic rapper, and a musical architect, the New Jersey artist is now ready to reap the benefits of his crafts.
Jersey City's music producer, songwriter and rapper – Kilo M.O.E – is former personal trainer and body builder, who has won multiple bodybuilding awards and built a reputable athletic career before zoning in on the rap game. Now in the game for over 20 years, he derived his moniker "Kilo," from his infamous street time in Topeka, while "M.O.E" stands for "Money Over Everything".
The CEO and creator of O.M.G (On My Grizzly) Entertainment – a company established in 2012 – Kilo M.O.E has built up the confidence, tenacity and know-how to establish himself at the head of the line. Now with his latest album, he continues to play to his strengths.
Known for his ability to craft incredible imagery with vocabulary, Kilo M.O.E kicks off the album on a dangerous note with the opening title track, "Keys To The M.O.E" ft. Fat Cat OGC, which blends an old school beat with modern keys and ultra-slowed-down vocal effects. Needless to say. He pulls it off smoothly.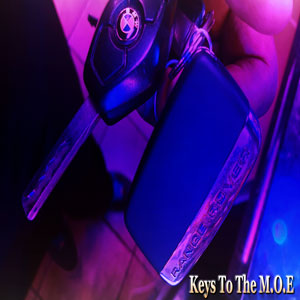 Setting the stage for an incredible journey, "Focus Bruh" carries on the feeling from the previous track but brings on a harsher flow and a banging beat. Here Kilo M.O.E rolls out rhymes that are as sharp as a guillotine, proving that he is a verbal assassin.
"Small Matter" ft. Cyco Thah Urchin, forges a verbal display that is so impressive that it was only after repeated listens that I finally realized that the song employs an unusual rhyme scheme, which is partly hidden by the melodic interludes. With age comes wisdom, and "Wake Up" shows all the astuteness Kilo M.O.E has accumulated, as he warns: "Wake up, wake up, these niggas don't give no fucks about ya."
"In Em" rides in on a bouncing beat and a wall of growling synths, positioning Kilo M.O.E as the prince of the underground urban jungle. His flow is timeless on "Dusk Til Dawn", and his really feeling himself by the time the second verses comes around, as he unleashes his gritty ferocity. It's not just empty rap boasts, though, as Kilo M.O.E speaks his mind on the weight of his grind. Throughout the album, Kilo M.O.E's bars are delivered with the sincerity of a man who has walked those roads, not from a place of judgement.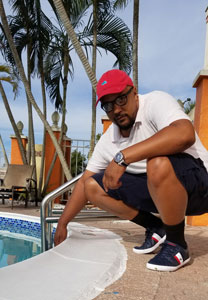 Turning to story mode, switching it up, and keeping the mood relaxed, "Where Eyem At" ft. Mr.Who???", rides on a quaint beat and a funky groove. Turning the tide once again, the soulful "Feel Inside" dishes out a sampled retro feel while connecting with the struggles of everyday life and tough situations.
It is full of timely rhymes and a memorable beat while the New Jersey rapper brings attitude front and center. A refreshing break from the norm, this album stands out from today's Hip Hop with a mature sound and the elements that make up the foundation of the genre.
Strong and confident with vibrant lyrics and creative beats, there are no gimmicks or tricks with this recording. The message is loud and clear as Kilo M.O.E takes on the labyrinth that is the modern music industry.
From top to bottom, the project has a noticeable sense of growth and maturity about it. "Keys To The M.O.E" is a brilliant look at the current state of hip-hop, how far Kilo M.O.E has come, and why he should be a fixture in the underground culture.
OFFICIAL LINKS: WEBSITE – TWITTER – INSTAGRAM – FACEBOOK 
Please follow and like us: