Jay Felicite is a 24 year old musician born and raised in the Caribbean island of St. Lucia. Jay currently resides and operates out of London, UK after migrating when 17.  Jay's new single, "Slow Wine", is a flawless project which is what happens when Jay Felicite plies his talent and effortlessly rides over the slow-burning Dancehall beat to perfection and leaves the listener wanting more.  The totally mellow vibe he pushes throughout the track is just totally refreshing and such a far cry from the usual Dancehall rhythms. Jay just rules the flow calmly and still gets the message across.
Ladies and gentlemen, Jay Felicite has awoken another sub-genre here – Dancehall/R&B. Please listen to what he is telling us. Love your woman and respect one another. Rejoice in this music because it is the healing force that moves the earth right now.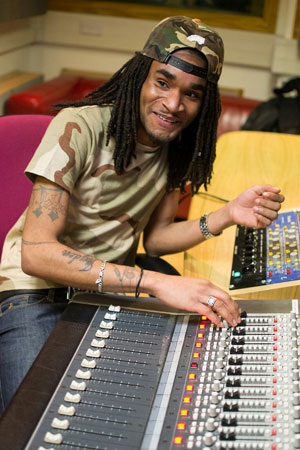 Listen to the smooth slow jam riddim and connect the sensual beat to Jay Felicite's silky voice, and that ought to tap you into what passionate Caribbean music is truly about, its explicit without all the degrading expletives and the demeaning attitude usually attached to modern urban R&B.
The track allows Jay to fully showcase his stellar vocal abilities, which he brings alive with an emotionally charged performance that's restrained in all the right ways. The song has a radio-friendly vibe but doesn't make any concessions, allowing Jay Felicite to blaze the track with a perfect blend of romantic swagger and soul.
There is something unusually catchy about the 24-year-old St.Lucia-born singer. The mode he works in displays deep melodic gifts, as he performs like he is on cruise control, with absolute ease.
R&B and Pop fans will eat this up, as Jay shows his ability to stretch his craft into more temperamental territory giving the track both a sensuous edge and a wide-reaching appeal. "Slow Wine" is extremely intelligent in the way it portrays romance and sex.
It isn't just explicit; it's implicit and can be interpreted in an array of ways. Unlike his contemporaries Jay Felicite has found the time to match sex, love and respect in a song, therefore he has plenty of time for his girl. Overall, I was impressed with the final product.
MORE ABOUT JAY FELICITE: The artist has had music instilled in him from a very tender age, beginning his musical journey from the age of 14. He uses a mixture of skills and influence in Dancehall & R&B/ Hip Hop to create a dynamic and melodic delivery in every piece. The singjay not only writes his own music, but also produces, mixes and masters (engineers) his own and other fellow artists music. Jay is a university of Westminster (London) educated, independent musician.
OFFICIAL LINKS: ITUNES – SOUNDCLOUD – TWITTER – INSTAGRAM – YOUTUBE – FACEBOOK
Please follow and like us: