Cranky George, the folk-influenced indie-rock band featuring actor Dermot Mulroney and co-founder of The Pogues, James Fearnley, released the first single from their upcoming debut full-length album, Fat Lot of Good, on September 16. The single, "Nighttime" is also supported by a music video which features the five members of Cranky George as they perform the song and interweaves the story of a woman in distress, pining and longing for a lost love.
Cranky George describes the song "Nighttime" as "A siren call for lovers — for anyone who's ever slept beside someone they loved and wished the night would never end." Featuring Kieran Mulroney on vocals, this is an excellent example of setting aside expectations, styles and genres.
This track contains 5 and a half minutes of flat-out, beautiful, delicately-crafted music. Is this a transcendent piece of Americana or alt-country-folk-pop music? I don't care. I just keep playing the thing and singing along.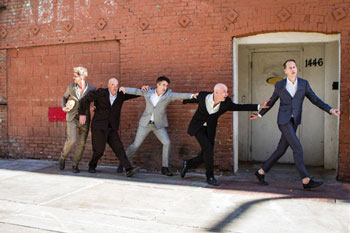 You might say it's just another great song with a familiar structure, heartfelt wordplay, and luscious harmonic content, but you'd do that at the expense of appreciating the beautiful phrasing and delicate interplay between the singing voices and the rich instrumentation, including horns.
There's so much more here than simple rhythm and melody here. Forget where they're from – forget who they are – just slap on the headphones, relax, and just listen. There are layers of beauty here that will seem new every time you hear them.
"Nighttime" is so very immediate and that's a quality that generally scares me. Immediate songs usually burn out fast. But I kept coming back to this one over the last few days and it continues to grow on me. "Nighttime" marks a return to the catchy, quirky, poignant songs we used to love a few years back – Beautiful voices, superb instrumentation, sublime lyrics and melodies, and a lead singer whose voice is wonderful and sings in such a way that you can actually understand the words.
 Cranky George is a real pleasant surprise in a period of disappointing new releases from many if not most of my favorite bands.
Nighttime Music Video from Cranky George on Vimeo.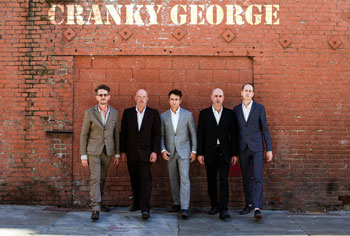 MORE ABOUT CRANKY GEORGE: James Fearnley, co-founder and accordionist for the London-Irish folk-punk band, The Pogues, and the Mulroney brothers, Kieran and Dermot, siblings from a large, Irish-American family from Alexandria, VA, first came together as neighbors in Hollywood, California. While both of the Mulroney siblings are known for their work on and behind the screen with movies, they are both classically trained musicians; Dermot on the cello, mandolin, and guitar and Kieran on violin, ukulele, and tenor guitar.
During this time, Brad Wood, who has produced records for artist from the likes of The Bangles, Ben Lee, Pete Yorn, and Veruca Salt, was added on bass. To round out the new line up of Cranky George, Sebastian Sheehan Visconti, a sound designer and sound effects editor who notably worked on the television series The Muppets and The Flash, joined on percussion.
OFFICIAL LINKS: WEBSITE – FACEBOOK – TWITTER – INSTAGRAM
Please follow and like us: