Jay Ax, who is originally from Brooklyn, currently resides in Staten Island. This magnetic emcee that exudes confidence and charisma has been on tour and opened up for T-Pain, Wyclef Jean, Khia, Keith Murray, Jae Millz and others. Moreover, Jay Ax was also an Underground Music Awards nominee in the Best Male Rapper category. Jay recently unleashed his 12 track, "Who Ax You" album unto the world. What makes "Who Ax You" a potential genre classic is not catchy hooks and beats that make your head bop. And heaven knows there are plenty of these spread across the recording too.
No sir, this album is a potential classic because of its complexity. It represents underground rap at its finest, detailing the complex dilemmas of the common man – a street hustler, a lover, a father, a brother, a son, a teacher – whatever you are, you're inside the music that Jay Ax puts down on paper.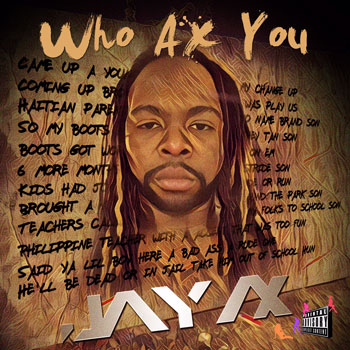 JayAx is so immersed in all aspects of life in this album; enough to write about its gritty details and experiences, but able to step back and analyze the broader consequences of our actions on our communities, families, friends and lovers. He may not even say any this stuff directly but it comes shining through the lyrics in the songs.
On the surface many of these tracks may sound like head-nodding bangers on the surface but Jay Ax has metaphors that take a few seconds for him to spit and which can spark conversations that last for hours upon closer examination, and these metaphors are often flying by so quickly that it's easy to miss one while thinking about the last one.
If you love to just vibe and groove to hip hop "Who Ax You" has got you covered, but if dig to analyze lyrics, this album will bring you many hours of enjoyment too.
Which songs should you be listening to? That's a personal choice, but my ear buds started trembling from the third track onwards. Meaning I was addictively drawn into "Mind Race", "211", "New York Gritty" ft. Uncle Murda and Yasmin Soul, "Californian Love Story" ft. Kymberli Lauren, "Elevate" ft. Brodie Jaymz, "Robocopkiller" and "Held My Hand" ft. Kymberli Lauren. But to be honest the beat is perfect for the lyrics and Jay Ax drops bombs on just about every track.
"Who Ax You" has a combination of great production and great lyrics, unlike most of today's albums or mixtapes which often has one or the other. This one is so good in both departments that there's not much to say except that it is straight fire.
This is probably going to be one of those albums that never gets old and can survive the test of time. "Who Ax You" is how an album should be done to introduce an artist to any new audience and the industry alike. If this is not a wake-up call, then tell me what is!
OFFICIAL LINKS: WEBSITE – SPOTIFY – YOUTUBE
Please follow and like us: