Hot Rod Hearse from Wexford, Ireland, consists of Hotrod Suzi and Zeff Ryder. The band who play a brand of music they like to call Thrift Shop Rock, released their debut single, "There by the Road" in August 2016.  Any band that can throw in The Animals and Walker Brothers vocal influences along with an epic alt-folk soundscape, psychedelic 60's fuzz and deep delta blues, all the while making it sound fresh and contemporary, has a recipe for success.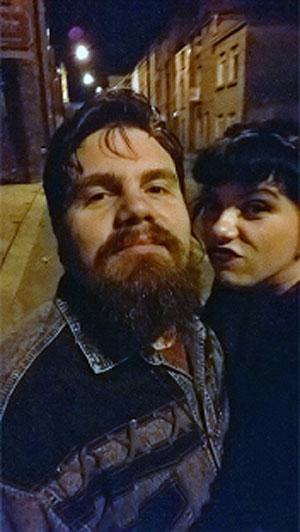 If they didn't already exist, somebody would have to invent them. Hot Rod Hearse brings a delicious combination of vintage sensibilities and modern production to the table.
It has been a while since we have embraced truly talented musicians instead of cookie cutter American Idol conveyor belt sound. The minute the track kicks off, the band's soulful, blues influences float casually to the forefront, alongside the thick layer of melody.
Outside the obvious expectations that deliver and exceed in fine alternative blues-rock, "There by the Road" has some of its strongest moments when the band strips back the wall of sound.
Zeff Ryder also knows how and when to hold back; a quality in musicians equally as admirable and impressive as an epic performance. These qualities bare great results as they allow enough space not only for a variation in timbre and tone during the song, but also for the vocal delivery to be as strong and passionate as possible. And man, does Ryder deliver!
Hot Rod Hearse injects a lot of soul into the tune, oscillating between electric blues-rock to fire-hard alt-folk. The result is a raw edged sound. Crispy drum and bass form a foundation with solid authority for a burning bluesy groove. It's got heart. It's got honesty.
It is deeply impressive in its textures which complement the vocal melody and captivating harmonies. "There by the Road" is 4 minutes of music that is a joy to keep returning to.
OFFICIAL LINKS: WEBSITE – FACEBOOK – TWITTER – YOUTUBE
Please follow and like us: