Galaxy the Rapper is a member of 'Untouched', a Hip Hop group based out of New York. Other members include King Jah, Be Ez, Tone Capone, and Daa kid Jp. Galaxy has opened shows for artists such as Chris Rivers, a prodigy of Mobb Deep. He has also had his single played on a variety of college radio stations. He is always striving to keep real Hip Hop alive and focuses on the originality in his flows and lyricism. On "Runnin To Tha Digits", he teamed up with J Mo to make a hard hitting song.
Galaxy the Rapper delivers tracks with a wicked flow that would make Tech N9ne and Royce Da 5'9 proud. Not only can he deliver deep, introverted and insightful verses, but he can also lyrically wreck bars to create energetic anthems. I think that Galaxy the Rapper and J Mo deliver even more than people were expecting on "Runnin To Tha Digits". Galaxy brings the heat here. He raps with an insistent scorching timbre and his wordplay is wicked.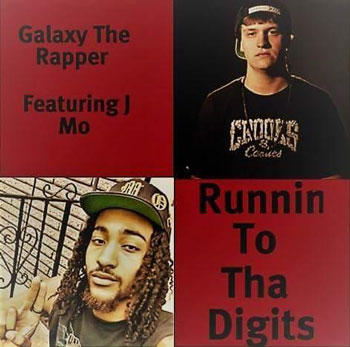 The introductory bars make for a heartfelt statement straight from Galaxy the Rapper that shows the introspective side of this multidimensional talented rapper, then the rest of the song follows with lots of energy and urgency, intricately styled lyrics and the sound you would only expect from a confident rapper who is telling everybody that he is seriously on his grind and will not be stopped.
Galaxy the Rapper will be a rapper of consequence, if he keeps up this high level of writing, production and storytelling through his songs. His songs won't be leaving any playlists anytime soon. Let me start out by saying I came into this track without really any expectations whatsoever.
Good decision, I was blown away. I can say this track is basically flawless from beginning to end, and that includes, production and the feature by J Mo. Now that's not to say every single person is going feel Galaxy the Rapper style, but to me this track is perfect.
Galaxy has an intense rapping style with good lyrics and storytelling, as well as a really crystal clear voice. All-round, this dude is wicked. Lyrics are tight, style is amazing and he is very focused on syllables. If you have a subwoofer, turn this thing up. You'll feel the passion this guy has for his craft!
OFFICIAL LINKS: SOUNDCLOUD – TWITTER – INSTAGRAM
Please follow and like us: