22 year old, independent rapper G-Ward is based in Tampa, Florida. Passionate about pushing Hip-Hop, G-Ward crafts and styles content that represents South Florida's laid-back culture and feel-good vibes. He has a new mixtape coming up real soon entitled "Live Free", from which we heard a few tracks which just came out of the oven.
The mixtape's production is shared by various producers such as Omito, Jahlil Beats, L.A. Chase and Roca Beats. Like most music coming out of Florida, the tracks are built on smooth but hard-hitting, snare-driven music. These beats are infectious and perfectly suited for G-Ward's relentless feel-good style of rapping.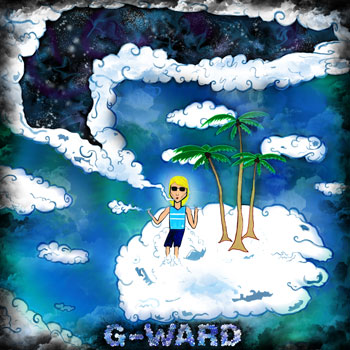 Some rappers are comets. They blow up and burn brilliantly for a few moments before disintegrating, never to be seen again. Other rappers are stars, fixed points in the sky, constant and visible from anywhere on earth. That makes the modern music industry like a meteor shower; as soon as you see one emcee they're gone, quickly replaced by another.
So how do we know which artists will become stars, and which are only comets? You've got to do something, even if it's only one thing, better than every other rapper. And if you can't at least do that, you're done for.
At 22, rapper G-Ward is clearly still working toward that one major thing to do better than anyone else in his genre, and in the meantime he is getting pretty high while doing it too. Check the first batch of titles from his mixtape: "I Just Wanna Smoke Prod. Jahlil Beats", "I'm Tryna Get Stoned", "Not Even High Yet Prod. L.A. Chase" and "I'm Floatin' I'm Gone Prod. Roca Beats". Lord if he is not having a good time doing this, then I don't know who is!
"Live Free" is a mixed-bag of high-flying stoner-like rap, establishing him as a rapper with a fluid flow who shows us his never-failing cadence and laidback, yet high-energy flow. The imagination with which G-Ward delivers his verses elevates them from tired to distinctly alive.  The dude comes with straight bars throughout the tracks, with an ear for melody that's criminally underrated.
While the sounds indeed bring out unique nuances in G-Ward's delivery, he sticks to the stoner script when it comes to his lyrics. He manages to reconcile his trippy, singular vision of the world with his apparent mainline on the beat of pop culture; this makes for both a devastatingly self-assured presence on the mic and a brazen sonic sensibility.
When G-Ward is in his zone, he's unstoppable, with a knack for converting throwaway slogans into positively transcendent pop hooks. He raps clear and consistent with punch lines surrounded by endless references to weed and general lit-ness, he knows how to play to his strengths while staying relevant in the context of hip-hop as a whole, and ultimately, this will lead to a successful project in the form of "Live Free".
OFFICIAL LINKS: SOUNDCLOUD – INSTAGRAM – TWITTER – FACEBOOK
Please follow and like us: