"Coins" is the debut single by 17-year-old Liverpool, England native, Callum Crighton, who wrote, performed and produced the song himself. Every so often there are bands that take popular sounds and really hit it out of the park. Reverb, low-fi, and dream pop are pretty common these days in the indie world.
And like most music of any genre, there are loads of bands that get it wrong and are obviously faking it, and then there's a select few that just plain get it. Whether blissful or melancholy, you won't lose interest in "Coins".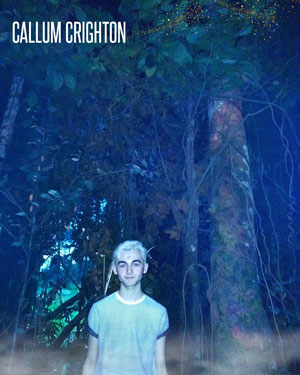 A perfect blend of moody dreamy music, smart catchy lyrics and spot on production, Callum Crighton first single is, in parts, brilliant, with a nicely expanding the luscious melodic structure. "Coins" is full of warm dream-pop sounds that pull you in with a wistful, loving affection – like the extended hand of an adoring friend seeking to meld.
A beautiful, haunting melody that hints of the brittle, celestial fragility of humankind, mixed with an oddly heartrending poignancy. This is gorgeous, gently gripping, rhythmic music that begs for your immersion; an open-armed invitation to wallow in dreamy ecstasy, while you ponder the lyrics.
An amazing bit of unadulterated modern pop sweetness, to warm your soul, this music will touch places you can't explain. We like to think we know who we are and what we are doing, and yet I suspect that beneath the surface we all harbor doubts.
The music from Callum Crighton speaks directly to things beneath our surfaces. But Callum does not merely speak; he seduces and convinces us that our feelings are being expressed in his music. We remember, soar or sulk when the music turns in a particular direction.
If you have some empathy for this music, you will be taken on a journey to nostalgic places trying to find out who you really are…and more importantly why you really are. And what "Coins" have to do with the essence of our being. Callum Crighton has managed to imagine his own fragile world for all of us to get lost in. It's a strange paradise.
The sound hovers in the air, sweet and uncluttered, with each separate part, portion, note and beat melded perfectly to craft a complete and full, sonically sublime, whole.
OFFICIAL LINKS: TWITTER – INSTAGRAM – YOUTUBE
Please follow and like us: