Farah was born in Riverside, CA. and began singing at the tender age of 6. "I enjoyed performing so much, I'd love to put shows on for my grandma and she'd watch me for hours," says Farah, who began performing for family reunions and building her confidence. As she grew up she began recording, cultivating her sound and discovering producers. Soon she developed a fan base online, and taking it to YouTube which garnered her over 600,000 views on one cover video alone. At 17, Farah dropped her project 'Neoteric', which did fairly, but she felt she wanted to develop a little more than she had.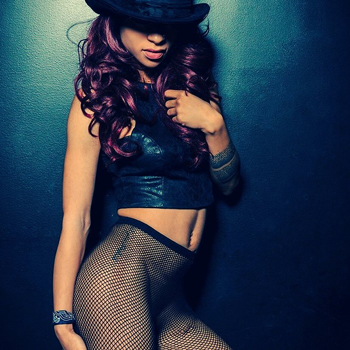 Now, at 23, she has dropped her single "You Ain't Ready" while she works to finish her upcoming EP to be titled "XELF". Farah straddles the fence between what is young and current, while trying to keep old school fans happy and an eye on the future of R&B.
The track boasts some incredible production but the most standout instrument on here is Farah's vocals.  She borrows from past eras vocally and musically and combines them together to form something that sounds uniquely fresh, classic, and futuristic simultaneously!
From a classic, banging vibe to a progressive Hip-hop edge with all the emotional depth necessary Farah is able to take her listeners on a cosmic journey with her multi-dimensional voice in any situation.
Farah gives you sexiness, sultriness, confidence, love, and so much more. All the while she doesn't overwhelm or force her hand. And that makes her sound so genuine, real, and relatable. She clearly wants to bring real R&B back.
"You Ain't Ready" is a mature reflection on love, in that the song draws clear distinctions between want and need and the agony that comes from making the right choices at the right time. In the land of the love song, this is practically contemplation-level depth. Its message is a warning flare for players and a rallying cry for women dissed, bothered, and bewildered to stay in control.
What I've learnt from "You Ain't Ready" is that Farah is one independent woman who isn't afraid to say what's on her mind. She comes across as direct and raw, but at the same time innocently sweet. This laid back mellow ode sees Farah take on a relaxed Aaliyah-esque tone; ditching any vocal acrobatics in exchange for a clean, subtle vocal arrangement. And it works a whole lot better for her.
OFFICIAL LINKS: WEBSITE – SOUNDCLOUD – YOUTUBE
Please follow and like us: