Electronic producer Michael Musco returns with a brand new 12 track album. It's a fitting creation or the ex-rock ant-hero. While most of his main-stage festival peers continue to either churn out vocal-driven, vaguely house-inflected pop, or vocal-driven, vaguely trap-inflected pop, has done neither. Vocal-driven yes, but it's much more than pop.
With the breadth and beauty of a rural sky, the expansive tracks on Balls to the Walls roll out some epic arrangements. Tracks ebb and flow from style to style; they end abruptly, rather than pretending to blend seamlessly. This is an album, proper, and most definitely not a mix – and it's definitely not made just for a big-room dance floor.
There's still plenty of four-on-the-floor numbers, but plenty of left turns and detours abound. Indeed, we do have some very unusual pieces here, like "False Flag BTW (Electro House)", "Coming Rise BTW (Uplifting Trance)", "Tidal Force BTW (Progressive House)" and "Big Lie BTW (Progressive House)".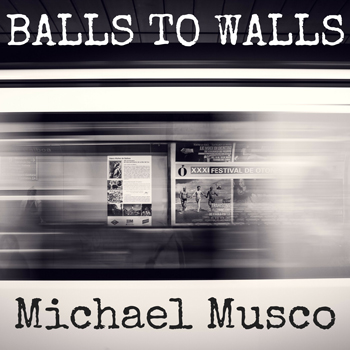 At the same time there plenty of loud anthems such as "Broken Habit BTW (Progressive House)", "Savage Element BTW (Electro House)" and "Savage Element BTW (Electro House)". And if you absolutely want that melodic pop vibe, you'll find it in "That Night (Michael Musco Remix)".
Michael Musco  has crisscrossed more electronic music genre's in the last couple of years than most of you will probably have thought existed, and in the process sets a new standard for technical production mastery that most producers will fail to even scratch the surface of.
Where most electronic artists are currently failing in what many believe to be an extremely stale musical environment, Musco succeeds on almost every level. He has bought us an album that is not only full of club bangers but songs that rip the definition of 'club only' dance music to shreds.
"Balls to the Walls" is an album that breaks down a lot of barriers. A DJ who isn't from Europe is working like a bona-fide super-producer without having to rely on cheesy pop tracks. He has managed to create an entire listenable dance record full of his own productions [a very rare occurrence], and gives the listener a lesson in genre switching to boot.
Basically, this album is brilliant, and is a must own for any dance enthusiast. Michael Musco has always held himself to higher-than-most standards when it comes to music production, and he continues to do that here.
In fact this studio album manages to convey the same levels of excitement in hearing his new material as his previous recordings did. One of the reasons is that he has spent much of his time throughout his albums trying to avoid clichéd chord progressions and remain innovative and authentic — something deserving of respect in an industry where it's increasingly easy to become a button pusher.
OFFICIAL LINKS: WEBSITE – TWITTER – SOUNDCLOUD – BEATPORT
Please follow and like us: