Anthems Vs Oceans is the project of solo artist Dave Hunter, who started playing guitar at a young age fascinated by teaching himself how to play. He went on to teach himself how to sing, play drums and record. Later on, after playing countless local and out of town shows, he recorded at MDS Recording with gold record and SOCAN #1 awarded producer, Murray Daigle. It was this experience that really shaped the understanding of a professional recording process. Dave now handles everything by himself.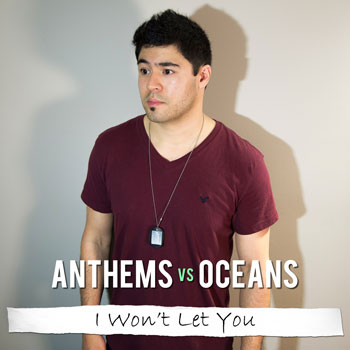 Anthems Vs Oceans' latest single is entitled, "I Won't Let You". This is Punk without the angst or rather, lyrics for the punk at heart with a modern acoustic sound.  The lyrics seem introspective, but retain Dave's terrific ability to tell a complex story within the constraints of writing a simple pop song.
Up until a week ago, I'd never heard the name Anthems Vs Oceans or Dave Hunter. Never mind any band he'd ever played in. Then again in regard to music I am anything but an aficionado of the modern rock scene. If one were to look at pop music as a factory, rock n' roll sometimes seems like a clogged conveyor belt.
There are so many new bands and artists emerging they can barely get through the door. Yet Anthems Vs Oceans is able to fit through that door.
So in the last few days I've been asking friends if they have heard of, or like Anthems Vs Oceans, and every single time, I'll get a quizzical look and a "no." That's too bad…for them, because Dave is an extremely talented musician and songwriter who actually writes about things!
His descriptive lyrics actually say something. They are full of stories and honest reflections. The melody on "I Won't Let You" is weaving and exciting, never derivative and the fit sweetly with the lyrics. Dave's voice has an impressive range, and is full of emotion.
As a lyricist, he has an amazing knack of writing exactly what you are thinking, of being honest and open, and of saying all the things you wish you'd said – to current or former lovers. "I Won't Let You", is an incredible punk and emo tinged, acoustic-pop love anthem.
OFFICIAL LINKS: WEBSITE – SOUNDCLOUD – FACEBOOK – INSTAGRAM – TWITTER – ITUNES
Please follow and like us: