Having a unique personality and a striking collection of tunes under his belt, Chris Calamera set out to release music under the moniker of Exit 22 Music. He is an experienced artist with 20 years of song-crafting within the pop-rock music scene. Straight out of New York City, Exit 22 creates songs, that echoes the works of seminal performers such as Matchbox Twenty, Kelly Clarkson and the Goo Goo Dolls, just to mention a few. Exit 22 Music channels the art of combining authentic lyricism with memorable melodies and ambitious energy. The project's latest single "Break These Chains" is an extension of everything Exit 22 has produced until now – a collection of traditional pop-rock songs that dabble in the colors and textures that would fit in with just about any era linked to these genres.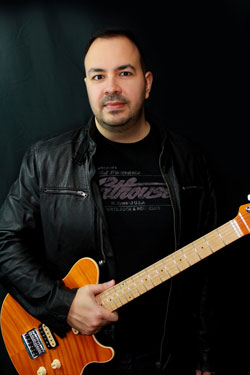 Exit 22's songs are melodic and well-sung, with approachable lyrics and rousing emotionally-heightened sing-along choruses. Each track is given texture and contrast by its clever blend of instrumentation, and spices of effects mixed with home-grown pop flavors.
Here, Chris Calamera again gets to explore the possibilities of his songwriting, using an enchantingly crisp rhythm and organic sounding instrumentation, unshackled by the need to fit into any strict label format.
The freedom is evident in his songwriting, as Chris jumps between moods and feeling from song to song, never giving his tracks anything besides the soaring vocals and stunning production to pull them together. "Break These Chains" is a single of super-pleasant, catchy rock that charms relentlessly with repeat listening.
With its urgent hooks and surging sincerity, this is recognizably Exit 22's work, right down to its freely strummed guitars. He's tweaked the formula of his previous work in judicious ways, using his arranging inflections as an underpinning together with his flair for writing pop hooks.
Those hooks go a long way toward capturing listener attention, in a record built on careful details in its production and lyrics, constructed with discipline and eager to be taken seriously. This passionate sense of purpose results in a tight recording. This is big music about big personal issues, which makes Exit 22's determined craft admirable – he's clearly doing this not because it'll give him a hit record but because he believes in it.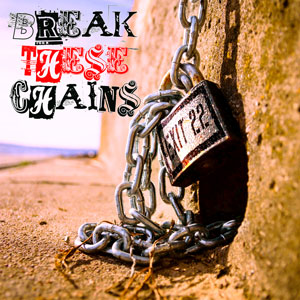 Part of what makes Exit 22 Music so brilliant to listen to is the ability to translate the most incredible feelings into words and phrases, and weave them together to create relatable, touching stories that perfectly matches the music.
The actual instrumentals give "Break These Chains" a lot of depth, and Exit 22 uses elements and effects that highlight the melody while at the same time keeping the rhythm front and center. Chris Calamera makes music not for a specifically defined demographic group but for anyone with a pair of ears; with the project's soulful female vocals, urgent beats and sprawling guitars, songs like "Break These Chains" will seduce listeners accustomed to any genre.
That's a mind-set that may seem ill-suited to today's micro niche-oriented music marketing models, but along with his talent and his charisma, it is a key to Exit 22 Music's longevity within the industry.
In the end, "Break These Chains" is a product of not only a life time of experience, but a lifetime of doing what Chris loves. There is a passion in everything that Exit 22 Music does, and it's never shown quite as much as it does in this latest single. It's that passion that has gotten Chris Calamera so far in his work, in his life, and it's that passion that's going to keep him in the spotlight for years to come.
OFFICIAL LINKS: WEBSITE – FACEBOOK – YOUTUBE – TWITTER – INSTAGRAM – SOUNDCLOUD – REVERBNATION
Please follow and like us: